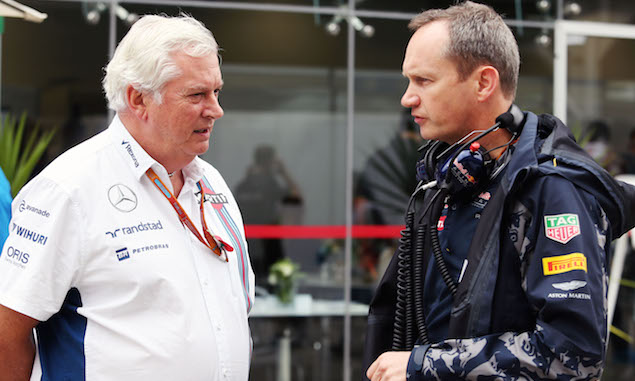 Pat Symonds says Williams has yet to see a loophole in the 2017 regulations which could provide teams with a clear advantage next season.
New aerodynamic regulations are being introduced which will make the cars up to five seconds per lap faster, with Barcelona used as the benchmark circuit. Most teams have been working on their 2017 cars for most of the year, and Symonds says the example of the double diffuser in 2009 highlights how there could be larger gaps between teams, although admits Williams has not found such a loophole.
Asked how hard it is to set any form of targets for new regulations, with a number of teams struggling when aerodynamics changed in 2009, Symonds replied: "It's interesting that you talk about 2009 because firstly, it's not easy at all, everything is relative.
"If we produce a car next year that only has 10 points more downforce than this year, I don't give a damn if everyone else has five. Of course that's not the case. The more you deviate, and I'm talking 100 points or something like that, I guess the more chance there is for getting it wrong.
"2009 was slightly different. There was a huge discrepancy between the teams but largely because there was a somewhat twisted use of semantics to interpret a regulation that made a fantastic difference. Now that may happen again. If it does, we're in trouble because we haven't seen it.
"If everything is equal, and we're all interpreting the rules in a similar way, then OK, that's one thing. 2009 was different because there was this interpretation and to this day, at Renault, we asked the question could we do this. We were told no. Later it transpired the FIA said we asked the question in the wrong way - I've never quite understood it - but yeah, we missed it and it was hard to get back.
"It was quite interesting, those of us who didn't have the double diffuser, we had half our crew in Paris arguing against it and the other half busily designing it. The week after the court of appeal, we were in China with a double diffuser. We didn't start that after the court of the appeal, we started that a long while before. We'll see."
And Symonds admits Williams is not the best on the grid at finding grey areas to exploit in new regulations as it has to focus its resources in a different way.
"I do think that's part of our jobs, absolutely," Symonds said when asked if one approach could be to use a technically-minded lawyer to find a loophole. "That's something that is part of our jobs and I think some teams are very aggressive at it and very good at it, more so, for example, than we are at Williams.
"We seem to be working flatout just doing what we need to do, but I know that other teams do have people with that fundamental job – to look at everyone else's cars and see what they can see that's wrong with them and then look at the rules over and over again to see how you can exploit them.
"But when I say exploit, I don't mean cheat or anything like that, I mean just making sure that, coming back to semantics [of the rules], they think 'I know that's what he meant, but what's he said?'. That's what it comes down to and quite often they are not the same thing."
TECHNICAL ANALYSIS - Interlagos
Scene at the Brazilian Grand Prix
Quotes of the week - Interlagos
2016 Brazilian Grand Prix - Driver ratings
Keep up to date with all the F1 news via Facebook and Twitter