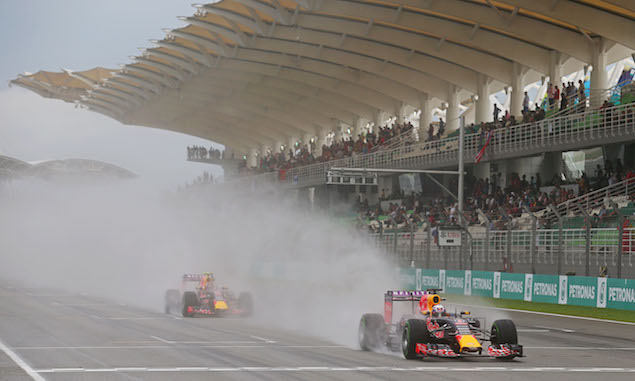 Daniel Ricciardo says Red Bull needs to be focusing on closing the gap to Mercedes but was pleased to beat Williams in Malaysian Grand Prix qualifying.
With Red Bull struggling so much during the Australian Grand Prix, Ricciardo says the team has made clear progress as he was able to qualify fourth in Malaysia. However, with the top three cars covered by less than 0.4s but Ricciardo and team-mate Daniil Kvyat over 1.7s off pole position he says the gap to the front remains disappointing.
"We've definitely made some progress since Melbourne," Ricciardo said. "We would like to be closer to the guys in front, but in saying that we're ahead of the Williams, and that's a positive. Bit by bit, we'll get closer."
Ricciardo also believes the weather had a hand in improving his grid position by at least one spot.
"Fourth was definitely the best we could have done, we probably would have been fifth if it had been dry. It's positive in the wet at least and I think we'll have some fun tomorrow as tyre degradation is going to be massive. It's probably going to be a three-stop race so we'll have to hang on."
Click here for three reasons why Honda is struggling at the start of 2015