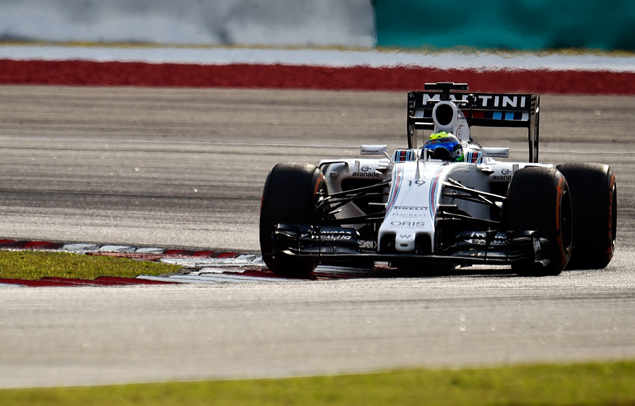 Felipe Massa says Williams remains "too slow" in wet-weather conditions after he and team-mate Valtteri Bottas finished seventh and ninth respectively during a rain-hit qualifying session in Malaysia.
Both FW37s had been tipped to compete with Ferrari as best of the rest behind Mercedes but eventually trailed the frontrunners by over 2.5s after the skies opened up in Q2 at Sepang International Circuit.
Despite having Mercedes engines at the back of its cars, Williams was outpaced by three Renault-powered machines in the final part of qualifying, with both Massa and Bottas struggling on a damp track.
"For sure it is a deficit," replied the Brazilian veteran when asked about the important Q3 gap.
"We were on track at the right time, even if we started on the wrong tyres, it doesn't matter. The best part of the track was at the end and we had the right tyres at the end.
"We were too slow, there is nothing you can think about. If you don't do the good lap for a reason or another you lose half a second or a second, but we are talking about seconds. It is a big difference."
Wet-weather pace was already a weak spot on last year's Williams FW36 and Massa bemoans the fact that its predecessor seems to suffer in similar conditions.
"(Temperatures) were too high. We need to analyse, but if you see how much we lose in the first sector and then in the second sector we lose more. And then in the third sector we lose a lot more. For sure, we are using the tyres in a different way and this is a point we need to understand.
"It is a similar car, it is an evolution compared to last year. We haven't fixed it, so we need to work a lot to fix it in these type of conditions. We will keep working."
Click here for three reasons why Honda is struggling at the start of 2015