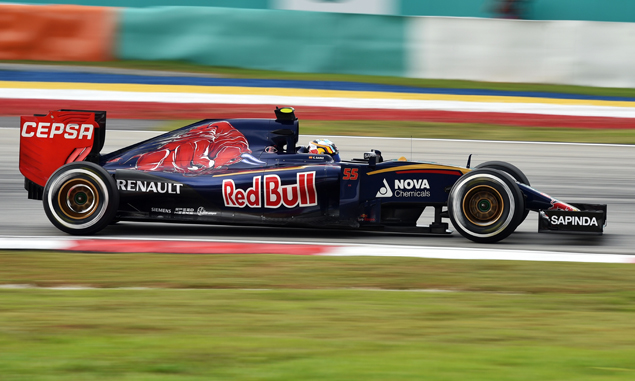 Carlos Sainz Jr labels his Q2 exit in Malaysia as a 'rookie mistake' after the Toro Rosso driver locked up at Turn 14 as rain started to fall during the second phase of qualifying.
In the end, the Spaniard could only secure the 15th spot on tomorrow's grid.
Sainz was even more crestfallen following what had been a very strong Q1 showing where he had placed in STR10 in P4 and finished as the highest classified Renault-powered driver.
With the traditional Sepang afternoon downpour looming at the start of Q2, the remaining 15 cars all rushed out of the pit lane and fiercely fought for position to set a banker before heavens opened.
Having ended up among the final cars that took it to the track, Sainz thinks he probably pushed a little bit too much to beat the rain and feels he should have taken a slightly more conservative approach.
"Obviously in Q1, it was amazing, we were showing great speed," said the reigning Formula Renault 3.5 Series champion.
"To do the mistake that I did in Q2, it's tough to take it, but you have to take it and learn from it. It's a rookie mistake but I will just make sure it does not happen again.
"I was just thinking too much of doing a fast lap instead of getting through. You normally have the mindset… to get into Q3 you need a perfect lap and I was trying to do that. Maybe today it was not necessary to do that perfect lap to reach Q3."
Despite his Saturday setback, Sainz believes he can bounce back on race day and claim a second top-ten finish in a row after scoring his maiden points in Melbourne.
"I think our target has to be always the points. Today we look very good in the dry, much quicker than we even expected and I think we have a bit of an edge there.
"So if we use it properly, we get our strategy right, everything should come on its own. Obviously, we have two Force Indias and two Lotuses in front of us and these will be very difficult to overtake, but we're here to try our best."
Click here for three reasons why Honda is struggling at the start of 2015