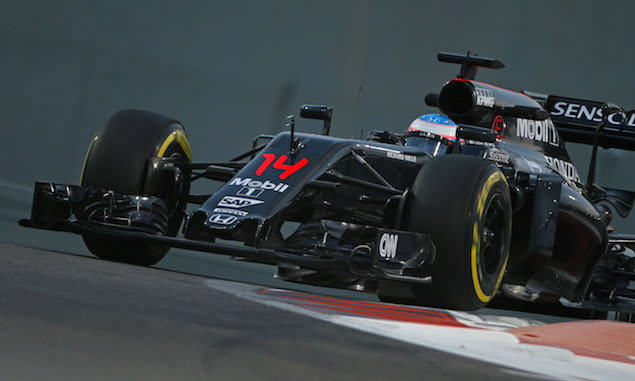 Fernando Alonso admits McLaren-Honda has been increasingly focussed on the 2017 Formula One season during Friday's practice sessions.
The Spaniard was a lowly 18th in FP1 at the Abu Dhabi Grand Prix before improving to 11th in the evening session at Yas Marina Circuit. But with next year's rules revolution looming closer, Alonso explains why the lap times are not representative.
"I don't think we can read too much into what happened on Friday," the double world champion said. "In FP1 we didn't really go for a time because we were trying many different things that are important for the future but not for this weekend.
"In fact the last three races we've been just working for 2017 on the Friday sessions, and today was no different"
Still, Alonso expects McLaren-Honda to fight on the fringes of the top 10 come Saturday's qualifying session.
"From what we've seen in the last few races, the top six are on a different level, then there are Williams and Force India that looks like they'll lock Q3 out and then we seem to be behind them, with a number of teams fighting for the best places behind the top ten.
"Of course, if one of the Williams or the Force India fails, then the faster of our group will make it into Q3.
"Hopefully we can get into Q3 but this weekend's goal is a different one: to score points, try to finish ahead of Toro Rosso or just behind them, so they cannot make up for the 12-point deficit they have for us, while learning as much as possible for 2017."
McLaren-Honda is currently sixth in the Constructors' championship with 75 points.
REPORT: Hamilton leads Rosberg by just 0.079s in FP2
Silbermann says ... Parting gifts galore
Grosjean column: Magnussen and THAT crash in Brazil
Chris Medland's 2016 Abu Dhabi Grand Prix preview
FEATURE: Hamilton v Rosberg: 2016 F1 drivers' title permutations
Keep up to date with all the F1 news via Facebook and Twitter