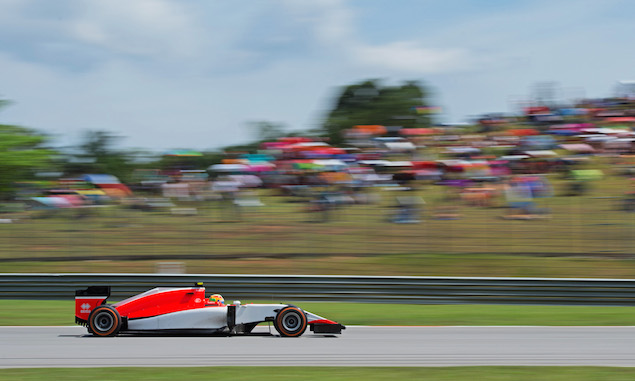 Manor sporting director Graeme Lowdon says there is "no ulterior motive" at the team and insists it did not plan on only racing one car in Malaysia.
A number of Manor's rivals were unimpressed by the team's approach to the Malaysian Grand Prix, with only one car on track at any one time and Will Stevens failing to qualify or race with a fuel system issue. However, Lowdon - who described the cynicism as "complete nonsense" - told F1i the team is desperate to get two cars on track at the earliest opportunity.
"It really is difficult," Lowdon said. "We've got a really good bunch of people and they desperately want to be racing. There's no ulterior motive, we're here to race. We know we're going to have to play catch-up but considering where the team was only a couple of months ago you would think, or you would hope at least that people can see that this team has a respect for the championship. We do.
"We want to be in the championship, we have every right to be in the championship. We were ninth in the world championship last year, we beat two other teams, and we're here to race. There is no other ulterior motive. Why would we not want to run two cars?
"If you look at Melbourne it was absolutely gutting to not be in that race because there was a real chance to be there or thereabouts whilst other teams were having some problems. So it's nonsense to think we would come here and not want to be in the race, there's just no logical sense. I just don't understand some of these people."
Click here for former Honda engineer Jacky Eeckelaert's Malaysian Grand Prix debrief
Keep up to date with all the F1 news via Facebook and Twitter