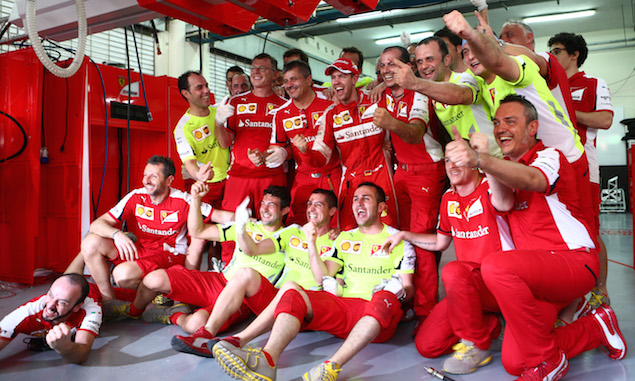 Sebastian Vettel says the atmosphere at Ferrari has helped the team make such a big step forward at the start of 2015.
Ferrari failed to win a race at all last season, scoring just two podium finishes in a year dominated by Mercedes. However, Vettel delivered victory in only his second race for the team in Malaysia as he managed to beat Lewis Hamilton and Nico Rosberg in a straight fight. Kimi Raikkonen has previously said the atmosphere has improved at Ferrari over the winter, and Vettel agrees with his team-mate that it's an important aspect of the upturn in form.
Asked if he expected to win so early in his Ferrari career, Vettel replied: "Of course not.
"I think for all of us we didn't know, when we started in Melbourne, where we were, where the journey was going to start but I think the most important thing is that for both Kimi and myself, we had a very good feeling since the first test. We were happy with how the car feels and we were able to build onto that. We had some issues to solve which I think that just in time we got on top of so great job from the guys.
"So far, reliability has been very strong and I think today the key was to look after our tyres. That's, I think, where we were able to close the gap a lot compared to Australia, compared to Mercedes. What it is, I think as I said, first of all, the guys have worked over the winter, tidied up a lot of things. Obviously I wasn't around last year and I don't know how last year's car was but I was told that this year's car is a lot better.
"I'm very happy with how the car feels, with the balance. It allows me to play and to work which I think is always crucial as a driver and then I think there's a fresh wind, there's a lot of new people. Some people have changed their position and so far I think the atmosphere is great, people are happy just to be there and do their job. They're very passionate and I think that's the most important thing.
"Everything else, of course, at this stage, is a bit of a surprise  for us but of course we take it. The most important thing again, just like after Australia, we need to confirm that in the next races and then gradually try to catch these guys."
Click here for a more lighthearted look at some of the scenes from the Malaysian Grand Prix
Keep up to date with all the F1 news via Facebook and Twitter