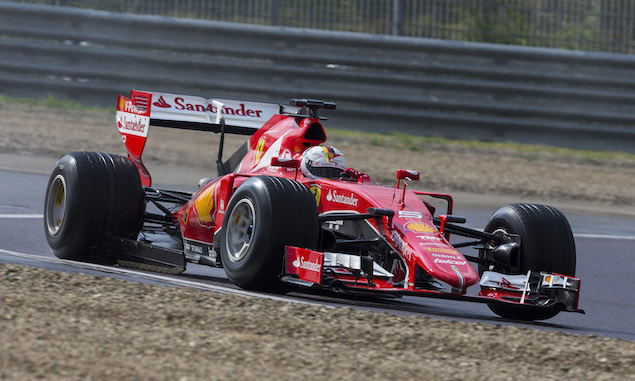 Pirelli motorsports director Paul Hembery has said that Sebastian Vettel's test crash last week was not down to any problems with the new-specification tyres.
Vettel was left bruised and shaken after sliding into a barrier at Ferrari's own Fiorano test track at some speed while testing a set of the new 2017 rain tyres. The test was cut short after the incident.
Pirelli has been tasked with creating new compounds for 2017 that can cope with cornering speeds up to 40kph higher than last year and with 20 per cent more downforce, as a result of technical regulation changes introduced over the winter.
But Paul Hembery said that Vettel's crash had not uncovered any significant flaw in the new rubber.
"It was very cold on that day," he told German broadcaster RTL. "It was extremely abnormal conditions that made testing very difficult and delicate.
"It was only 4 degrees, which is unusual," he added. "To get the tyres to work in those temperatures is the problem.
"The biggest challenge for us is not having seen the new cars. We'll probably only see if our data corresponds to reality on Saturday night in Melbourne."
Pirelli motorsport director Mario Isola added that the company would have backup tyres available for the first few races of 2017, just in case anything unexpected did come up.
"Some elements are difficult to predict, so we have prepared five reserve compounds that can be used if the real track data does not coincide with what we simulated," he said.
GALLERY: F1 drivers' wives and girlfriends
Keep up to date with all the F1 news via Facebook and Twitter