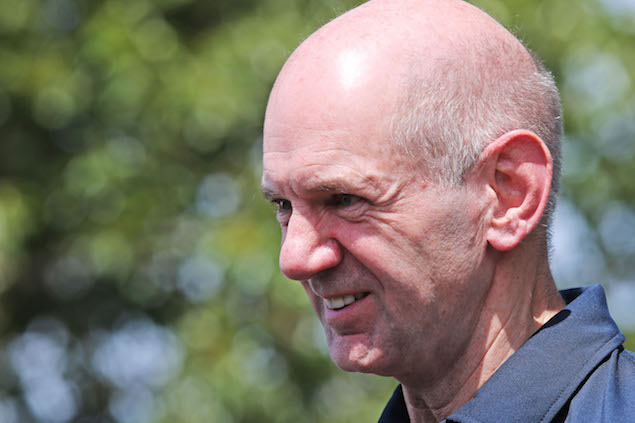 Red Bull's chief technical officer Adrian Newey says that Formula One remains too dominated by power units, and that it should be aiming for a healthier balance of engine, chassis and driver capabilities in future.
Newey was speaking in advance of the unveiling of Red Bull's new 2017 car, the RB13, which will see major changes on last year's model as a result of new downforce and aerodynamic regulations.
"The combination of more mechanical grip, more downforce and a heavier car means the amount of full-throttle per lap will be much higher," said Newey when asked what the impact of the new technical specifications would mean for the sport.
"It certainly means that it's actually even more of a power formula than before
"However, what worries me is it is still engine-dominated which is slightly unhealthy. It should be a blend of engine, chassis and driver," he told media in Chennai where he watched his son Harrison clinch the MRF Challenge title.
"This extra downforce and extra grip means that the cars will then produce higher G-forces and therefore the drivers will have to work harder to brace themselves against," he continued, saying it would be a good thing if the drivers were under more physical pressure this season.
"We're all used to now, over the last two or three years, watching television and when the drivers come on the radio, it doesn't sound as if their heartbeats are raised at all. It sounds like they're sitting and watching the race as well!
"However, it could come at the cost of the ability to overtake and of close racing," he added.
Newey added that the new Red Bull car was on track to be ready for its public unveiling next weekend, and to take part in the first four-day pre-season test at the Circuit of Barcelona-Catalunya starting on February 27.
GALLERY: F1 drivers' wives and girlfriends
Keep up to date with all the F1 news via Facebook and Twitter