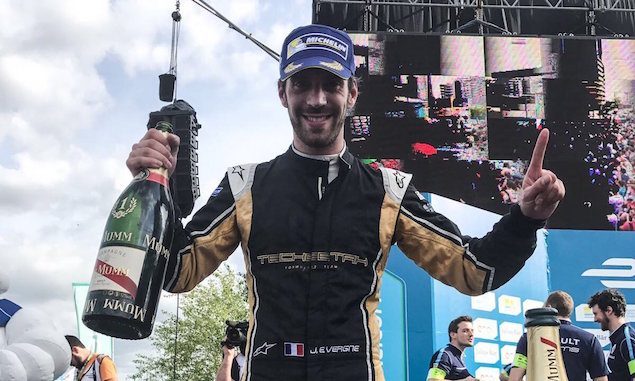 Former Toro Rosso racer Jean-Eric Vergne feels "rejuvenated" since his switch to Formula E, with the Frenchman saying he could not have settled for competing in the Formula 1 midfield.
Vergne made 58 race starts for the Red Bull junior team between 2012 and 2014 but was left out in the cold when the parent outfit elected to promote team-mates Daniel Ricciardo and Daniil Kvyat ahead of him.
The 26-year-old found refuge in Formula E in December 2014, first driving for Andretti, then moving to DS Virgin, before joining new Chinese outfit Techeetah this season.
"I have turned the page on Formula 1", Vergne told French broadcaster Canal+ after finishing second in last weekend's Buenos Aires ePrix - his fifth podium finish out of 22 starts in the FIA's all-electric series.
"I reached F1 with Toro Rosso, which is a midfield team. It kind of hit me when I claimed eighth in my second race.
"I was not particularly over the moon but when I came back to the pits everybody was jumping up and down as if we had just won the grand prix.
"I could never settle for celebrating an eighth-place finish as a tremendous result for Toro Rosso. It kind of weighed down on me and it was a tricky situation to deal with.
"When you go to Formula E, you have a shot at securing pole positions and winning races regardless of the team you are competing for. This has made me feel rejuvenated.
"It's great to enter each round knowing you can challenge for victory."
Vergne currently sits fourth in the Drivers' standings after three of the 12 rounds in the 2016/17 season.
GALLERY: F1 drivers' wives and girlfriends
Keep up to date with all the F1 news via Facebook and Twitter