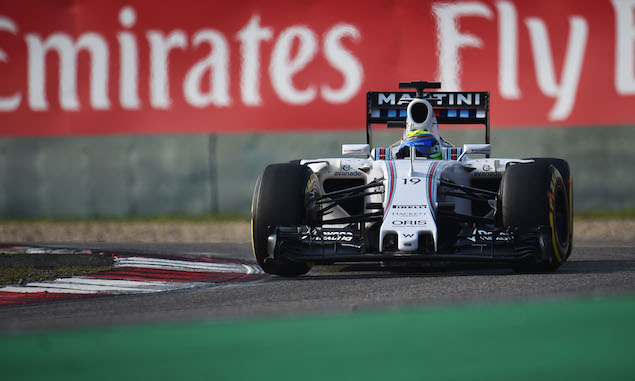 Rob Smedley says he is relishing Williams' battle with Ferrari in today's Chinese Grand Prix, expecting a close race with the Malaysian GP winners.
Felipe Massa and Valtteri Bottas managed to split the two Ferraris, with Sebastian Vettel starting from third place and Kimi Raikkonen back in fifth. With Massa having lost out in a fight with Vettel in the season-opening Australian Grand Prix, former Ferrari race engineer Smedley says it will be tough to beat his old team but he's looking forward to the challenge in Sunday's race.
"They've got really good race pace, they've shown that they've got good qualifying pace when they get it right and it will be a tough race with them," Smedley said. "Definitely, I'm not expecting anything less, although I am looking forward to it…
"Malaysia was a specific problem and I said on Sunday night after the race that we understood we had a problem with the tyres and it was important that we analyse that thoroughly - which we now have done and it is pretty much as we thought after the race that we were getting the tyres a little bit too hot - and then thought about countermeasures for it, and that's an ongoing process.
"It wasn't an aerodynamic problem, it wasn't a mechanical problem, there wasn't anything wrong with the inherent performance of the car, what was wrong was the way we were operating the tyres. We've thought about that a little bit more and I fully expected that in China we would be back to a more reasonable position. Not where we wanted, by any means, but a more reasonable position."
Looking at Williams' strengths compared to Ferrari, Smedley says the FW37's top speed should help it in any on track battles.
"I think the Mercedes power unit management is still very, very good in the race. It pretty much has been since last year and that has always offered us an advantage. Even though other teams have closed up on us the car still has really good straight line speed and I think around a circuit like this we are able to nurse the tyres quite well too.
"So I think they are the relative strengths of our car. It always has good high speed performance, so around a circuit like this there are strengths that we need to play to."
Click here to look under the skin of the front-running 2015 cars 
Keep up to date with all the F1 news via Facebook and Twitter