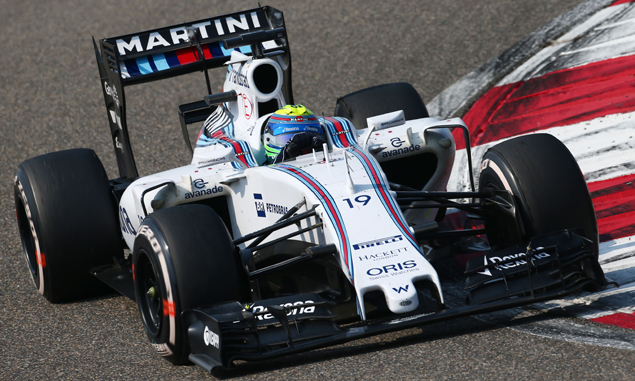 Williams performance chief Rob Smedley heaps praise on Felipe Massa and says the Brazilian has never driven so well in his career after a strong start to his 2015 campaign sees him P4 in the Drivers' standings.
While the Grove-based team has slipped back behind Ferrari in the pecking order, Massa seems to have picked up where he left off at the end of 2014 when he pushed Lewis Hamilton for victory at the Abu Dhabi season finale.
By claiming fifth during last weekend's Chinese Grand Prix, the 33-year-old veteran secured his third point finish in as many races this year. Massa also has a 3-0 record against highly-rated team-mate Valtteri Bottas on Saturdays, although the Finn has been recovering from a lower back injury sustained in qualifying at Melbourne.
Despite suffering a rear wing failure in Friday's free practice at Shanghai, Massa once again bounced back in style over the rest of the weekend. The 2008 championship runner-up almost edged out Sebastian Vettel's Ferrari on the grid before driving a solid race en route to P5.
Smedley, who used to be Massa's race engineer when the pair worked together at Ferrari, is especially impressed with the 11-time grand prix winner's constant progress after more than a decade in the sport.
"He had a bloody good weekend (in China)," said the British engineer. "He was right on it.
"He knows what to do with the tyres, what corrective action to take, he knows how to get them working in qualifying and he knows how to make them last in the race, as good as any particular car will allow him to do.
"I've worked with him for many years and I'm still seeing him develop.
"It's good to see that a lad with 10-plus years of driving Formula One cars is still able to develop and improve."
After Massa's spell at Maranello came to an unspectacular end, the Brazilian did not enjoy the smoothest start to his Williams career, but he was able to turn things around and find fresh impetus over the second half of 2014. Smedley actually believes Massa is operating at his peak right now.
"One of the biggest changes I've seen in Felipe over the last year and half is not only where he has got his head to, the fact he is very comfortable with himself and his surroundings, but technically how he is managing the tyres is really impressive.
"What we're seeing at the moment is definitely the best Felipe Massa we've seen - definitely as good as 2008."
Click here to look under the skin of the front-running 2015 cars 
Keep up to date with all the F1 news via Facebook and Twitter