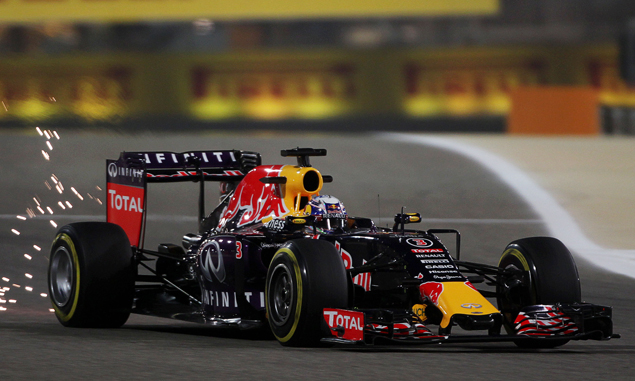 Daniel Ricciardo vows to put any lingering memories from his botched getaway in China behind him, as the Red Bull driver aims to get a "rocket start" from P7 during Sunday's Bahrain Grand Prix.
The Australian lined up on the same grid spot last weekend in Shanghai only to make an error that saw him drop down to 17th on the opening lap.
Ricciardo has been lurking around the bottom half of the top ten across all three free practice sessions at Sakhir, and qualifying was more of the same with the 25-year-old setting the seventh fastest time in Q3.
Asked whether he felt any extra pressure about tomorrow's start, Ricciardo claims he is raring to go but admits he has been rehearsing the procedure with his team.
"I think if you're smart and intelligent, you move past it," he said. "I'm actually hanging out to do it and actually passing guys and get to turn around and say "wow", that's different from last week.
"We've done six or seven (practice starts) so far and we'll do a few more before the race. To be honest, it's not so much the practice… Instead of just doing the start subconsciously, it was just making sure I was focusing a bit more on it so yeah… all sorted for tomorrow. I'm going to get a rocket start."
Ricciardo's P7 made him the highest-ranked Renault-powered driver on the grid, as Red Bull once again appears to be the fourth-quickest team behind Mercedes, Ferrari, and Williams.
Although he thinks the Grove-based team still has an edge on race pace, the three-time grand prix winner hopes his squad's latest tweaks will allow him to compete with the Mercedes-powered FW37s on Sunday.
"I've seen Felipe was only a tenth or so in front. I think that tenth was there. I probably pushed a little too hard on my last run but in general I think I put myself in that position at least to fight for it. I'm happy with how quali went.
"I'd say they had a few tenths on us in the long run but we made some adjustments today to try and suit tomorrow's race. Hopefully that helps us out and gives us those extra tenths we need and keeps us in DRS and striking range."
Click here for analysis of the development war between Ferrari and Mercedes 
Keep up to date with all the F1 news via Facebook and Twitter