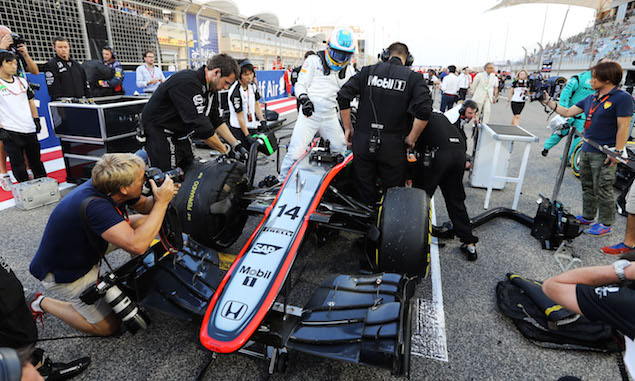 McLaren racing director Eric Boullier says the team is no longer facing a "very dramatic" situation after making progress over the opening four races.
Jenson Button failed to start the Bahrain Grand Prix as an electronic issue went unresolved throughout the weekend, causing him to stop on track in three of the four sessions on Friday and Saturday. While Boullier was not happy with Button's lack of running, he says McLaren needs to take encouragement from how far it has come since Australia where Kevin Magnussen similarly failed to start the race and Button finished two laps down in last place.
"We are still having glitches on one car and the other car was trouble-free all weekend more or less so it is encouraging," Boullier said. "And it's good to see that we can make some progress and we now can nearly score points on merit.
"Obviously we are still far from where we want to be but I think in some ways it looked very dramatic but now we've passed the dramatic time so there is some progress."
With Honda set to upgrade its power unit in Barcelona, Boullier says some of the focus will be on making it more reliable following the recent issues.
"There is a reliability program which is still going on. It's good to see Fernando doing a second race in a row with no problems but obviously on Jenson's car it's still not good enough. Still, that means the reliability package is more or less working, still not at the level we would like to be but the maturity of the project is very, very young."
Click here for analysis of the development war between Ferrari and Mercedes 
Keep up to date with all the F1 news via Facebook and Twitter