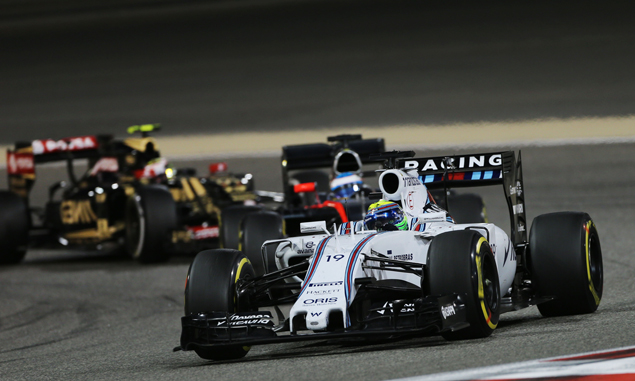 Felipe Massa says his Bahrain Grand Prix recovery was blighted when Pastor Maldonado's Lotus bumped into him and damaged the diffuser on his Williams.
Prior to that incident, the Brazilian had not experienced the smoothest night either after a sensor issue had prevented his Mercedes-powered FW37 from getting off its sixth place on the grid.
Having to start from the pit lane, Massa was quickly working his way up the order when Maldonado tapped him at the rear on Lap 4. The ensuing damage left the 11-time grand prix winner wrestling with poor rear stability until the chequered flag.
Although Massa still managed to salvage the final point on offer by finishing tenth, the 33-year-old rues the missed opportunity.
"To be honest, I had a very good first three or four laps," said Massa."I was passing cars and then I was in front of Maldonado. He missed his braking point, I don't know what he did but he missed his braking point in Turn 4 and hit my diffuser.
"He broke a good part of my diffuser. So from that lap to the end of the race I had no stability on my rear. I was just suffering a lot with rear stability. It was a big damage. I was using the tyres so quickly.
"The degradation was massive. For sure, it was a race to finish in the good points anyway even with the problem I had at the start."
"It was just a bad day for me."
While Williams generally had the second-fastest car in 2014 behind Mercedes, it has been clearly leapfrogged by a resurgent Ferrari over the first four fly-away races.
Massa's team-mate Valtteri Bottas pinpoints tyre management as the main obstacle hampering the Grove-based squad's progress at the moment. The 2008 championship runner up chimes in and says Williams is doing its best to address the issue.
"We try everything we can in the set-up, it's not that we don't try to save the tyres. Because if you see the difference is not in what Mercedes was doing last year, it is similar. It's just Ferrari that has made a big step. Ferrari has a very special way to use the tyres, which is impressive.
"For sure we need to work, we need to understand, we need to solve this problem. It'll definitely be an improvement for our car anyway. But we're working on it."
Click here for analysis of the development war between Ferrari and Mercedes 
Keep up to date with all the F1 news via Facebook and Twitter