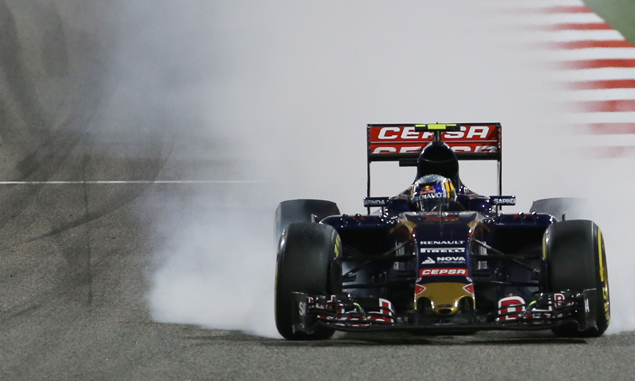 Carlos Sainz Jr. says Toro Rosso needs to analyse why he and team-mate Max Verstappen had a difficult Bahrain Grand Prix weekend, although the Spaniard managed to reach Q3 during qualifying.
Lining up ninth on the grid, the 20-year-old had "a decent start" but was "pushed off at Turn 3" before coming under pressure on the pit straight, as his Renault-powered STR10 struggled against its rivals before DRS was activated.
"At the beginning of the race, when nobody is using DRS, we're losing a lot of time on the straights with the lack of power we have," said Sainz.
"It's really tricky. I was coming onto the main straight with a one-second difference and they were attacking me into Turn 1, you have to be always looking into your mirrors."
The reigning Formula Renault 3.5 champion then struggled with the balance of his car, an area where Sainz thought his Toro Rosso would fare better on race day.
"We did not find the right balance, which is a surprise because normally in the race we should be a bit better.
"It never came together. I don't know if (in qualifying) the position was not realistic compared to the pace we had and if it was just a flash of a good lap and a good performance at a certain moment. Or if we were not good enough (in the race).
The F1 debutant was all more surprised to see his team experience a challenging weekend at Sakhir after doing so well at Sepang, a track with similar traits to Bahrain International Circuit.
"It's weird because Malaysia should have been a rear-limited track and we were really quick there, and here it was a rear-limited track and we were pretty slow.
"Both tracks are quite hard on the rear tyres, so it's difficult to say. There is a lot of analysis to do. We were clearly not as quick as we wanted, so I'm a bit disappointed."
Sainz' endless litany of issues also included a five-second time penalty for taking too much time on his way to the grid.
"We had a penalty in the pit stop of five seconds due to being too slow on the lap to the grid to save fuel. We knew we were going to be very tight on fuel so they told me to go really really slow on the way to the grid."
Sainz' grim night eventually came to an early close when he had to park on the side of the track with a wheel problem following a pit stop mishap.
"It was a frustrating race. One to forget definitely."
Click here for analysis of the development war between Ferrari and Mercedes 
Keep up to date with all the F1 news via Facebook and Twitter