F1i editor Chris Medland worries Lewis Hamilton's championship victory has been slightly tainted by the timing of his best form
"I would say that Lewis is going to be - and already is - a great, great world champion. For me I think he's a legend already."
Those were the words of 1992 Formula One World Champion Nigel Mansell to F1i at the start of the Mexican Grand Prix weekend. Lewis Hamilton had just won his third drivers' championship and was being praised from a number of corners.
Hamilton's title came courtesy of victory in a thrilling race in Austin, with the success resulting in him wrapping up the championship with three races to go in his most dominant display having won his previous two at the final round.
Fast forward to the end of the season and you'd be forgiven for thinking this is the least deserved of Hamilton's three championships, such is the scrutiny he has been under for failing to win any of the final three races this season.
Following the final race in Abu Dhabi, it reached the point where Mercedes boss Toto Wolff said the team will need to look in to the reasons for Hamilton's inability to deny team-mate Nico Rosberg a hat-trick of wins.
"There has been so much discussion about whether [Rosberg] has stepped up his game or has the car come towards him development-wise, or has Lewis just taken it more easily unconsciously – certainly not consciously," Wolff said.
"We have to have an intelligent list in the next couple of weeks to analyse. I think we have to find out. At the end of the day for Lewis the world championship title mattered but then those last couple of races saw really great driving from Nico."
Wolff was even asked, albeit only half-seriously, whether the wrong man had won the world championship.
It's all about the timing.
Hamilton was in imperious form at the start of the season. Buoyed by what he felt was an overdue second drivers' title, he had worked to get the Mercedes more to his liking and knew exactly what sort of challenge Rosberg would pose when the championship was up for grabs. Winning the championship wasn't a new experience for Hamilton, and he knew exactly how to deal with the scenario.
A more relaxed Hamilton was able to shine in qualifying, something he had failed to do in 2014 as Rosberg took home the pole trophy (or would have done if he ever received it) for the most pole positions in a season. An imperious run of form was interrupted only once by his team-mate - in Barcelona - as Hamilton took 11 of the opening 12 pole positions on offer. It's a crucial statistic, as the two Mercedes drivers have both shown how hard it is to overtake the other on track.
In Bahrain last year, with his team-mate on the faster tyre, Hamilton had shown how hard he is to beat once he is in the lead, and displayed he is willing to go that little bit further than Rosberg in order to defend his position. The fact remains that since the start of 2014, when both cars have finished Hamilton has only twice been beaten by Rosberg if he has started ahead, and one of those occasions was in Monaco this year when Mercedes' pit stop error dropped the race leader to third place late on.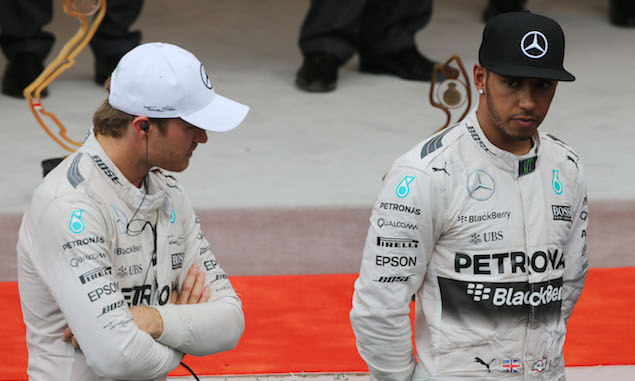 The other occasion was in Austria, where Rosberg beat Hamilton off the line in to Turn 1. Spin that round, and Hamilton has started behind his team-mate but finished ahead on seven occasions over the same period of time. However, reliability issues for Rosberg account for two of those results. So on five occasions, Hamilton has beaten Rosberg when starting behind in a straight fight, doing so twice this year - in Japan and the United States.
Perhaps it is contrived, perhaps it is due to suspension changes on the Mercedes W06, or perhaps it's simply a case of Rosberg improving his qualifying performances, but is it really so surprising that Hamilton has been unable to win from second on the grid against the same car? No.
Rosberg showed in 2014 he can be a title contender, even if Hamilton displayed himself to be the more complete driver. Ultimately, Rosberg has previously proven he can be a threat for pole position and he's managed to string a run together when Hamilton is not completely happy with his car. From there, it has always been tough for either Mercedes driver to get the upper hand, but Hamilton's ability to do so more often than his team-mate is a key reason as to why he's won the last two titles.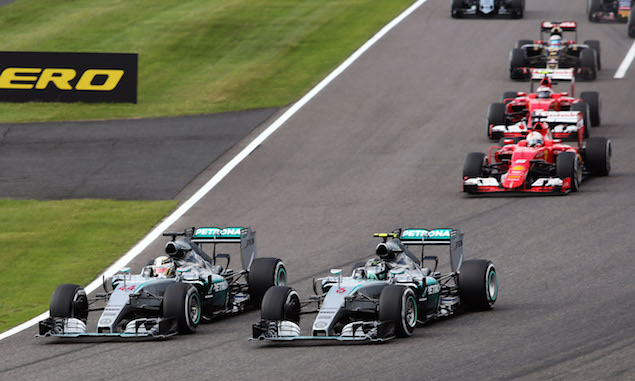 If the results in the final three races of this campaign had been spread through the middle of the season and the title wrapped up a race or two later Hamilton would be being praised for being more consistent than last year. Instead, questions are being asked of him and his Mercedes team. I'd say those questions are a little premature, and will only really be worth asking seriously if Rosberg's run extends in to the opening races of 2016.
Personally, I doubt Hamilton is really bothered by such questions. As he admitted himself arriving in Mexico - at the same time Mansell was making his comments - he has been waiting for the end of the season to really enjoy his success. And rightly so. The timing is right now.
The MP4-X: McLaren unveils radical F1 concept car design
Technical analysis - Abu Dhabi
Use the red tabs on either side of the screen to scroll through more Formula One news and features
Click here for a gallery of the McLaren MP4-X
Keep up to date with all the F1 news via Facebook and Twitter