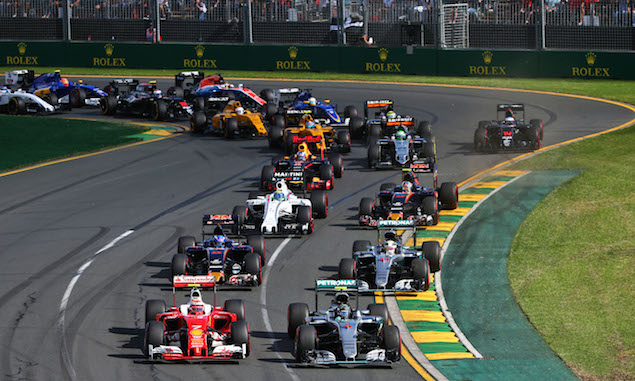 I've been knocked out with influenza these past few days, the real deal, not the wimpy "man flu" where lack of compassion and understanding from significant others can put your life in danger. The true mystery about man flu is how the same virus can cause a woman to have the sniffles, but is actually life threatening for men.
Anyway, it's influenza, or influenzo for fans of the Ferrari founder. I was lucky in that the early stages of this illness coincided with me still being well enough to sit on a sofa unsupported and watch weekend television, or "sport" as we call it. I was able to enjoy the full MotoGP, Moto2 and Moto3 events from Jerez, the Liege-Bastogne-Liege cycle race held in snowy conditions in Belgium, the first ever Formula E race to be staged around the streets of Paris, both FA Cup Semi-Finals and, for work reasons, the TCR touring car event in Estoril and the Blancpain GT Endurance race in Monza. It set me thinking about the format of our sport and reminded me that in May last year, the F1 Strategy Group Press Release contained the statement, "A few other measures have also been discussed but require further investigation before they can be implemented: A global reflection on race weekend format."
Stuck in front of the goggle box for two days, I thought I do my own investigating:
To enjoy the TCR and Blancpain events, you pretty much have to have some sort of involvement or investment in them; in my case financial, or you're the girlfriend of one of the incredibly wealthy sports car racers who pays a pro team and driver to get him on the grid and to the flag. So, you follow the last half hour of the three hour race and that way you can drop some sort of knowledgeable comment about your sugar daddy's dreadfully slow team-mate losing too much time on the second stint, while making small talk on the terrace of his Cote d'Azur villa.
Formula E – okay, this is a brave series and may well be the way to go, once all the oil dries up and the Gulf states revert to being a sandpit once more, or once petrol-driven vehicles are banned, but for the moment it's more showbiz than sport. In fact, I'm not really sure why the drivers wear fireproof race suits given the lack of hydrocarbons involved. Although I gather you can get a nasty shock if you use the age old method of licking the battery terminals to see if there's still any juice left in them.
The cars are slow, overtaking is almost impossible because the city tracks are so narrow, but clever camera angles and plenty of on-board shots make it look not too bad. But you only had to look at Jean-Eric Vergne's face to see how underwhelmed he was at finishing on the podium in Paris. Sebastien Buemi who was third didn't look that bothered either, both men clearly thinking they'd far rather be finishing tenth in a Formula 1 Grand Prix. It set me thinking there's probably a book to be written on Red Bull Junior drivers who were shown the Promised Land of F1 only to be banished into the wilderness by Helmut "Moses" Marko. But hey, let's not feel too sorry for them, they all earn more money than us, even Scott Speed (remember him?) while Buemi is a WEC World Champion and Vergne goes out with a Scandinavian lingerie model.
I'll admit that following a day-long cycle race is an acquired taste, although for athleticism, strength and guts, riding 150 miles, much of it on cobbled climbs in the snow, the Belgian classic was possibly the truest to the concept of sport, of all those I watched over my couch-potato weekend.
Clearly MotoGP was the show that came closest to Formula 1 in terms of hype, superstars and salaries and I have to say the fast paced format of running the races in all three categories one after the other, with barely enough time to make a cup of tea in between, really grabs your attention and the races are just the right length, with MotoGP running to around 45 minutes. I never though I'd say this, but reducing the maximum running time of a Formula 1 race to one hour could well help drive up viewing figures, particularly if you get to see the more harum-scarum antics of the junior drivers in GP3 and GP2 as an amuse-bouche, rather than shunted off to some midweek programme. Even the most exciting race has at least 30 minutes of tedium in the middle, so cut it out. The purists won't like it, but I'd maintain that the version of the Grand Prix motor racing the purists bang on about hasn't existed for at least 20 years anyway.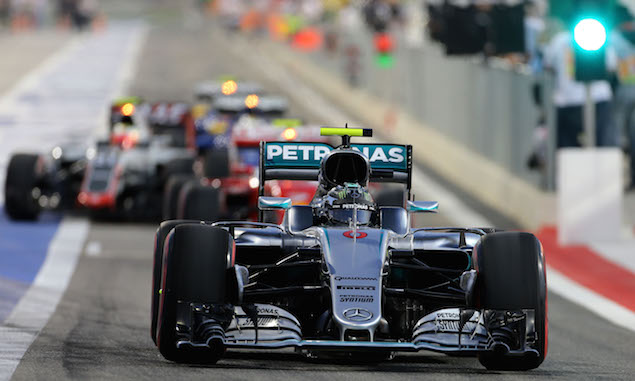 That just leaves the FA Cup Semi-Finals: these were the most exciting 90 minutes of my weekend viewing and apart from the Man U bloke with a face like a slapped arse, I didn't even know the names of any of the players, so clearly all the stuff about fan involvement didn't apply in my case. Now that really would be a target for F1 to aim for – a show so exciting that no preamble or hours of explanation before the lights go out is required. OK, so this 'flu has made me delirious, but it's a nice thought.
Apart from my TV marathon, I spent a good deal of the weekend trying to self-diagnose my condition via the internet. One website suggested Yoga might be the answer. I did consider the ascetic discipline a few years ago when I had a bad back, but I told the instructor I didn't think I could do all those tricky stretches. "Well, how flexible are you?" he enquired. "I can't do Tuesdays," I replied.
F1 technical - How does ERS deployment work?
Classic F1 - Sweden 1977: Ligier and Laffite's 'Jour de Gloire'
Derek Warwick - Race of my life
Keep up to date with all the F1 news via Facebook and Twitter