Romain Grosjean will write for F1i throughout the season to bring you a drivers' perspective of life in a new F1 team
Looking back on our weekend in Russia, it was one of those events where we entered it thinking one thing, halfway through we were thinking something else, and then by Sunday post-race we were just happy with the result – four more points!
It's typical of Formula One, it's a very complicated world and there are a lot of factors in every equation, especially performance. If you get something not quite right, then you can suffer from all the rest.
On the Saturday night in Sochi I wasn't very optimistic about the race having just made it into Q2, which is a positive I know, but we had hoped for more. I knew it would be complicated as we'd been playing a bit of catch up all weekend despite lots of mileage in free practice.
I thought it may be one of those races where we're going to suffer at the back and not have any fun. In the end I made a good start, managed to avoid all the mess at the first corner and from there, well, let's just say we made our knife work in the gun fight!
The key factor to the outcome in Sochi was definitely the start and the fact that the sun came out so track temperatures increased. That helped us to keep things where we wanted. It was a tough race inside the car though.
We lost a position at the pit stop and then I was closely following another car, something that is never easy. The Force India car behind me, I think he was up to thirty kilometres per hour faster than me on the main straight. I had to keep that delicate limit between pushing as hard as you can, so the guy behind you can't overtake, but at the same time you don't want to make any mistakes either.
The worst position you can be in a race, as I would put it, is to be the sausage in the middle of the hot dog! There's a car in front of you and a car behind. You're trying to chase the guy in front while not being overtaken by the guy behind. It's just the worst position to find yourself in.
You can't really attack, because if you do so, and then make a mistake, then it's simple, the guy behind passes you. You also just don't have any time to take a lap, cool down and then push hard again because the guy behind will take advantage of that. It's a very tricky position, but ultimately you have to trust yourself and trust your car and do the best you can.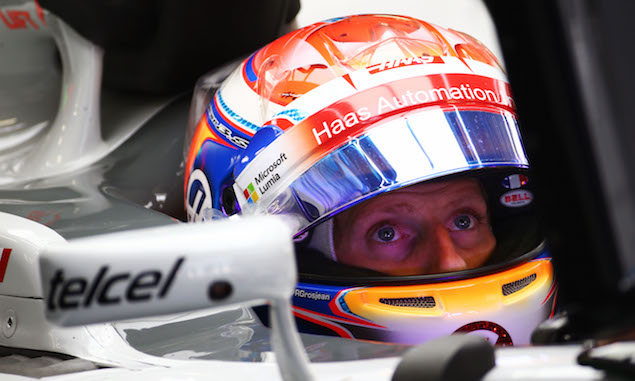 There's no time in the race where you think 'this is awesome' or anything like that. There's just too much going in a short amount of time to have that kind of moment. The race actually goes by pretty quickly in those circumstances.
It was a good result considering where we'd been earlier in the weekend.  As a driver there's a fine line, I have to be a motivator for everyone when we're maybe not where we want to be, but I have to be able to point out the problems when we have them.
Formula One is full of sensors but the only one that is actually in the car and driving it is the human brain in the driver.
Sure, lots of the time we can see things by studying data, but most of the time when things aren't working well, the driver's input is the most important. As I said, there can be a fine line between wanting to shout and getting the answer, to keeping everyone motivated and ready to go.
We're still new, there's a lot of things we can't do as we're not a big team, we don't have the resources so some things take a bit more time. With that in mind, Russia was a good weekend for us in terms of understanding more about the car, especially in analysing driver feedback from both myself and Esteban.
There are a few points on any race car that you want to have if you want to be able to drive consistently and fast. You need to have consistency in the platform and good traction from the car – that helps a lot, especially to not be overtaken and to ultimately be able to overtake.
We've got that with the VF-16. There are some very strong attributes with this car, they've been there since day one. That's why initially I said it could be one of the best cars I've ever driven, because its strong points are very strong.
I wouldn't have dared to imagine that we'd be returning having scored points in three out of four races
I said that back in pre-season testing in Barcelona in February. This weekend's Spanish Grand Prix gives us the opportunity to see how far we've come as it's the first track we have any data from to be able to compare.
Obviously conditions will be a bit different but it will enable us to see if we've been going in the right direction with the cars development. I wouldn't have dared to imagine that we'd be returning having scored points in three out of four races. I'm hoping we'll have a more straightforward weekend this time around and if the outcome on Sunday afternoon is more points, I'll be happy with that.
Click here for more from Romain Grosjean
Chris Medland's 2016 Spanish Grand Prix preview
Technical focus: Halo or Aeroscreen?
Silbermann says... Too many angry Bulls in Spain