While the Halo has been splitting opinion, there is a knock-on impact of improved safety which you might not have thought of…
Grand Prix Drivers Association (GPDA) Chairman Alex Wurz believes even safer cars could mean we could have "more aggressive and wilder" race tracks.
During Breakfast with Alex Wurz in Monaco last weekend, we also discussed his role as Chairman of the GPDA, the body that is meant to unite all the Formula 1 drivers, but one that is often perceived as not being very effective. An open letter from the GPDA published at the end of March, criticising the general state of Formula 1 showed that the current crop of racers do want their voice to be heard.
"We occasionally do something which is heard and known in the media, but I would say 80% of our work is completely unknown to people in the paddock or the media or the fans," said Wurz. "If there's a topic which we think is going to cause friction if it is picked up by the media, then we do our utmost to keep it just between the four walls, like in a private relationship.
"However at one point, we thought it was time to shout out in a more public way about how we feel. That's what we did in a public letter, which was again very carefully worded because we don't want to upset anyone. There's no political agenda behind it other than the fact we love the sport, we want it to be the coolest sport ever and we feel there's room for improvement so that's why we did that."
The GPDA has done phenomenal things in the past that most people don't know about
Former McLaren, Williams and Benetton driver Wurz insists that the organisation is far more proactive than one would think.
"The GPDA has done phenomenal things in the past that most people don't know about," says the Austrian. "I would go so far as to say I wouldn't think the cars would be as safe as they are without our efforts, although severe injuries and fatalities do still occur, although very rarely. And this goes back to the old days and our founding members and all the work the cool old dudes did for making racing so safe, because in the past, at every sixth grand prix, someone died in this sport. I think it's fundamental in the DNA of Formula 1 now that there is ever increasing safety and it's actually essential for the sustainability of the sport."
Wurz is aware of the argument that too much safety can sanitise the sport, but he believes it's a spurious one.
"You can be a purist and say 'it's already safe enough' but ten years ago, they thought it was safe enough and twenty years ago, they thought it was safe enough," continues the Austrian. "If you're a purist and say 'now it's safe, we stop working on safety' and something bad happens in the wrong country to the wrong person, it could actually wipe out motorsport in its current form, so we cannot stop safety development.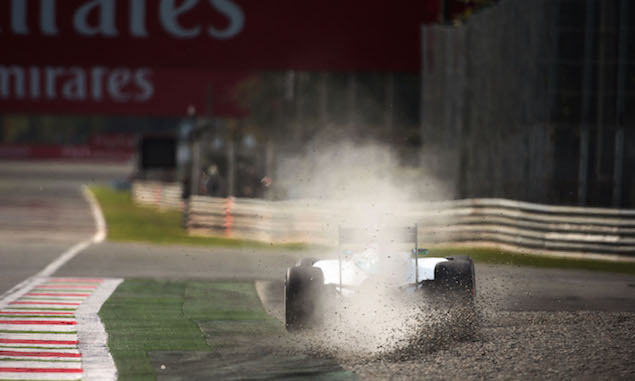 "The GPDA is a neutral body, but the moment we bring up a safety topic it is dealt with, because the FIA safety process is really cutting-edge. I think it's good and it's important at the end of the day for the sport that we, the GPDA, can still be here. Safety is not taking anything away from the courage and the coolness of the drivers. Even if we cover them with ugly or cool-looking head protections, in the end, they will look cool. It's just the first step and you have to put function over design.
"I think that could actually lead to a scenario where, if we know the cars are safe and we know we don't expose the helmets, we can go way more aggressive with track design, we can race on much wilder city tracks, we can race with higher speeds, we can make them even more aggressive to drive, because we don't have consequences which could jeopardise the future of the sport and the involvement of sponsors.
"So if you accept that philosophical point, then you also have to accept that occasionally we have an ugly solution like a Halo. After Karl Wendlinger's accident in Monaco, the first headrests looked ugly. Now they became more cooler-looking. We will get used to it and in the end we will find it maybe even cool."
If the GPDA Chairman's view of driver safety follows the conventional path, when it comes to track design, Alex has a more radical view of how future circuits or even current ones could evolve.
"As a fan of motorsport and hardcore enthusiast, I hate asphalt run-off areas," he says. "I'm a track designer, so I know it's useful to design a lot of asphalt run-offs because for a day-to-day circuit operation, it's way better to ensure your clients are not stuck in the gravel in their sports cars (on a track day) and then they don't come back because of stone chips on their cars. These people pay for the race track operations each and every day.
"But then you go to the showpiece events like F1, or WEC and the asphalt run-off area is an emotional killer. It's like using three condoms because there are no consequences for your actions.
"I give you one example of how cool the consequences of a driver mistake can be: remember Hungary when Hamilton did a mistake in the chicane and dropped back to position eight because he went through a gravel bed and then the entire race, he chased Rosberg down. That was amazing!
"Then you have the opposite where in Silverstone the year before, he leads, it starts drizzling, he does a mistake in Copse where there has been a full asphalt run-off area since four years. He loses only half a second and wins the grand prix. If he would have got stuck in the gravel bed, the whole of Britain, the rest of the world even, would have been shouting in pure emotion so you don't need an overtake (to generate excitement) in this moment if it's such a hero-to-zero moment.
"An asphalt run-off area is a love-killer in my view. But for the safety point of view, it's extremely important. We would have more injuries and maybe fatalities without asphalt run-off areas and all the other safety precautions. So if we make cars safer we can go back to more extreme track designs which then penalises the drivers going off with four wheels way more and we don't have these discussions about track limits."
It's true that nice smooth run-off areas have led to drivers feeling they can use every inch of tarmac thus effectively making a tight corner less of a challenge – think first corner at Spa-Francorchamps, the La Source hairpin and the ridiculously wide line that everyone takes, pioneered I believe by Nigel Mansell in 1989. The FIA has even looked into using electronics to automatically slow the F1 cars as a penalty for using run off areas, not something Wurz agrees with.
"The GPDA has worked with the FIA on this," he confirms. "But we shouldn't end up with using artificial power reduction if we go over the white lines, to (make a driver) lose two seconds in lap time, because in the end, in that case you might as well watch Playstation! It has to be a natural penalty, not an artificial one."
From the cockpit: Felipe Nasr on a controversial Monaco Grand Prix
Scene at the 2016 Monaco Grand Prix
Driver ratings - Monaco Grand Prix
Keep up to date with all the F1 news via Facebook and Twitter