Ferrari comes calling again as V6s arrive
At the start of the new power unit era, Raikkonen returned to Ferrari for a second time. While the team is familiar, the regulations and the sport itself is very different from the last time at Maranello.
Nowadays, it is not just new front wings or engine updates which help increase the car's competitiveness, with Shell providing Ferrari with 25% of its overall performance gain in 2015 through fuel and oil. Guy Lovett, Shell's Innovation Manager for motorsport, works out of the track lab where Raikkonen is sat, and explains the improvements all come within very strict regulations.
"In Formula 1 the fuel is really tightly regulated, which is a good thing because it means that the fuel we're using here for Ferrari in Formula 1 is very, very similar to the fuel you can buy out in a gas station," Lovett says. "It's 99% the same. For Shell that is absolutely imperative because all the technology and all the innovation that we yield from working in Formula 1 and motorsport we can then transfer to our road-going products. That is of fundamental importance to us.
"Nevertheless, the regulations do allow for a degree of innovation, which again is important to us to be able to trial new concepts, new technologies and new additives here in Formula 1 in quite controlled yet incredibly extreme conditions.
"Right now there are no limits to the number of formulations you can bring and there's very little regulation governing the oils. There is a bit on fuel but still there is enough scope for us to innovate. Fuel and oil have always been relatively unconstrained in a good way to push forward development, where engine regulations have been somewhat more fixed in the past. So, looking at the V8 era, again there were very little regulations governing fuel and oil whereas the engines were pretty much fixed towards the end of the V8 time.
"It's opened up a lot more from an engine perspective with the V6, it's starting to be more prescribed. Next year is going to get a little bit more interesting, a little bit freer but it will be the same for us and that's what we want. We're here to innovate and develop and learn. Our mandates are to help Ferrari win and transfer technology from track to road. Kind of simple in that respect!"
When Raikkonen jumps in the car, he admits the performance gains are difficult to notice, but that again is a product of the evolution in F1 as teams and suppliers rarely get the chance to do back-to-back comparisons of upgrades.
"It's hard to feel the difference," Raikkonen says. "In the past it was much easier when we were testing between races because you could do one run with this fuel and then change it for the next run so you can really feel it or maybe or not. Obviously if it's just one horsepower or two then you will probably never feel it because you can have one lap with the wind blowing one way and then the other on the next lap!
"But you could often feel it, whereas now it's either one race weekend or another, different places, different wing levels, often different conditions, so there's so many variables that it has to be a big, big change on anything that we bring to the car to really pinpoint 'OK, yes I can feel it', because we don't do that kind of testing. Like when we used to do tyre testing we would do one run and then do the next run with a different tyre so you could get a good idea of things.
"Now it's more like we trust the numbers, that's why we have all these things [in the lab]. Obviously Shell has been a long partnership with Ferrari and even when I was with them in 2007 and 2008 and 2009, in 07 we made big, big gains in fuel and oil and lots of horsepower. So I knew how it works, and obviously now with the new rules and everything it is a big benefit to have this relationship because obviously certain years you get close to the maximum you can achieve under those rules. Now everything has been mixed up with new rules, you again have more opportunities to make a big difference. So for sure we get a lot of help from Shell."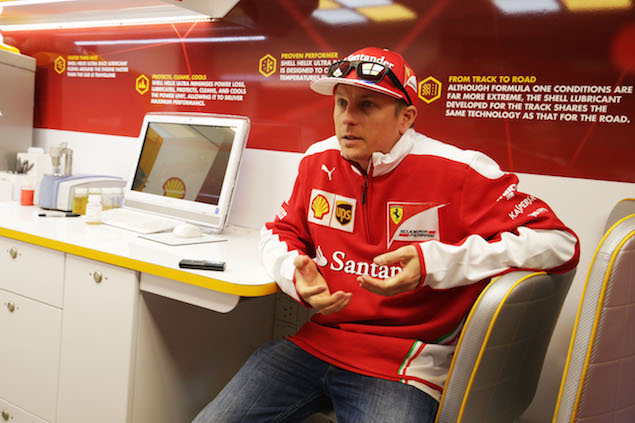 Having been through so much in his career already and having to adapt to new ways of working, does Raikkonen find the current formula in F1 enjoyable? Put simply: "Yeah.
"When it came in in 2014 everything was new and probably not at the level we wanted. OK, some teams were at the level they wanted, but for sure we were not happy with where we were. Drivability was also depending on how good your car is or the grip on the circuit or conditions, it wasn't always easy [to judge] because it made it quite tricky. But now after a few years everything has improved so much.
"Driving-wise the sound is different but the driving itself hasn't changed. You drive the same way, OK you have fuel saving but in the past you had brake saving or something, so it's the same thing just affecting different things. So I wouldn't say there's an awful lot different apart from the sound and I guess a certain feeling around you, but for me it's good already again that it's normal now."