F1i's Chris Medland believes Bernie Ecclestone continuing in his role as F1 CEO could actually be the basis for more significant change than if he'd left the sport
Finally on Wednesday evening came confirmation of the story which has been rumbling away for a number of months but really came to life over the past two weeks: Liberty Media has agreed to purchase F1 from CVC Capital Partners.
It's a big deal. A huge deal in fact - valuing the sport at £6bn - but for F1 teams and fans alike it's not the money that is the main interest (at least not the purchase amount) but what the new owners will do for the sport, and what the deal means for Bernie Ecclestone.
Ecclestone has been part of F1 for over 50 years and a major player for 40, so when he finally does leave the sport, you doubt he'll go quietly. Even before the Liberty Media deal was confirmed, Ecclestone was on the phone to Reuters and other news outlets to make clear he would be staying on.
And rightly so.
From a sporting point of view, F1 fans all over the world will agree things could be better. Right now one team is dominating and really should have won every race. But when the sport had seven different winners from seven different races at the start of 2012, there were still critics. So we'll leave how it can improve as a spectacle for another day.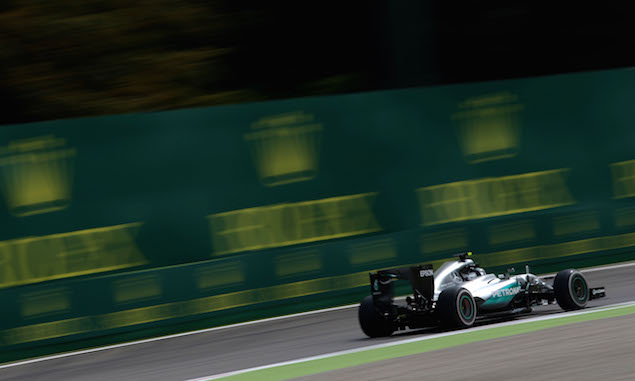 From a business point of view, the takeover tells you all you need to know. The sport has been a massive success for current owners CVC Capital Partners, to such an extent that CVC will remain involved as 65% owners of the Formula One Group's equity - the Formula One Group being the new name for the Liberty Media Group once the deal goes through -  and "will have board representation at Formula One to support Liberty Media in continuing to develop the full potential of the sport. In addition, a CVC representative will be joining the Liberty Media Board of Directors."
Granted, he has many failings, but Ecclestone has made F1 the success it is today. CVC has reaped those rewards over the past ten years, and Liberty Media will want to continue to do so, and then some.
I'm not going to pretend to be a business expert and discuss the structure of the deal or various intricacies, but love him or loathe him, it doesn't take a genius to work out why Ecclestone had to stay, whoever took the sport over.
Liberty Media were attracted to the sport's past business success as an investment but more importantly its potential for future growth. The former was all based on the Ecclestone model of reaping the television revenues and charging huge race fees to any country willing and able to pay them (and adding in penalties for those unable to fulfil their contracts).
That's the basis on which Ecclestone has been so successful, so it would be a very foolish move as new owners to say you don't want the one man who has made the sport tick for so long to be involved.
Of course there is a change in F1's management as Carey Chase comes in as Chairman alongside Ecclestone, but the 85-year-old's own words explain exactly why Liberty Media would be wrong to replace him.
"I will continue to do all the things I have previously done, negotiate with the circuits, television companies and people like that,"  Ecclestone told the Daily Telegraph. "It'll make no difference to what I'm doing. I'll just have a bit of help.
"He (Carey) can do lots of things that I haven't done with this social media, which he seems to be in touch with. He's been dealing with sponsorship with his TV people. Between us we'll get on with it."
From a more solid base, significant change can be instigated
What the new owners need is stability, and whether they like him or not, Ecclestone provides it. From a more solid base, significant change can be instigated without the clamour from outsiders to fill the vacuum which would have been left had Ecclestone been ousted.
And Liberty Media is already looking long-term, beyond Ecclestone. The two key points the CEO says he will still be doing - negotiating with circuits and TV companies - are listed as key opportunities for the new owners to develop. F1's new owners say they will "enhance distribution of content, especially in digital" (which will impact on future television contracts) and "evolve [the] race calendar"...
Other reported future directions will see the sport focus on US expansion; "this social media" Ecclestone speaks of; and involving the teams from a stakeholder point of view. Perhaps from this position, with Ecclestone still involved for now, Liberty Media can work on exploiting the obvious potential it sees for F1, rather than spending time trying to figure out how Bernie made it all work in the first place.
Scene at the Italian Grand Prix
2016 Italian Grand Prix - Quotes of the week
DRIVER RATINGS: Italian Grand Prix
Keep up to date with all the F1 news via Facebook and Twitter