In his latest F1i column, Romain Grosjean reflects on the lessons from a tough Singapore Grand Prix, looks ahead to a busy October and calls for a strong end to the season
I think it's safe to say that Singapore wasn't the best of weekends. I'm lucky that there are 21 races in the year, so if one goes bad, I'm fortunate enough that two weeks later another one comes along so we move on.
It was a tough weekend for everyone. Clearly not taking part in the race was difficult. If there's an upside to what happened, it's just that it fuels my desire to do better at the next race.
There are always positives to take from situations though if you view the glass as being half full. While the result was not positive, we've now taken the time to process all the data from the weekend. We know we can do better on several aspects, and I'm sure we will.
But, I'm not wanting to dwell on the past when I'm really looking forward to this weekend's Malaysian Grand Prix. I love going to Malaysia and the Sepang International Circuit is a great track.
It's always a challenge there with the heat and the humidity. The circuit itself is very fast, I really love it. It's a bit of a shame that the track's so far from Kuala Lumpur as it's a pretty cool city. On the other hand, the race always attracts a crowd with some great fans packed into the grandstands on the fast straights, it's a cool sight.
The race at Sepang's now well and truly established on the calendar. It's always tricky to know where Formula One should go to race, especially when we have a lot of cool places to race in Europe.
We obviously have more new races on the schedule these days and I've stated before, I'd like to see another race in the US soon, especially now with Liberty Media investing in Formula One.
Malaysia is a great example though of taking the sport to a new territory, and giving the fan base time to grow and letting Formula One expose itself to new markets. Sepang's hosted a Grand Prix since 1999 and over the years since then we've seen some great racing, not least with the unpredictable weather.
We always get a good turnout and it's an appealing destination for people to travel to from abroad, especially with the track being so close to the airport in Malaysia. It's a popular event, people like it, it shows well on television and it's popular with the teams and drivers.
I'm being reminded now that my 100th Grand Prix start is fast approaching, it would've been in Japan but with not starting Singapore, it'll be in Austin later this month. It's pretty cool to hit that number. I wish I had more podiums, and obviously I haven't managed to win a race yet, but scoring ten percent podiums from 100 starts isn't too bad.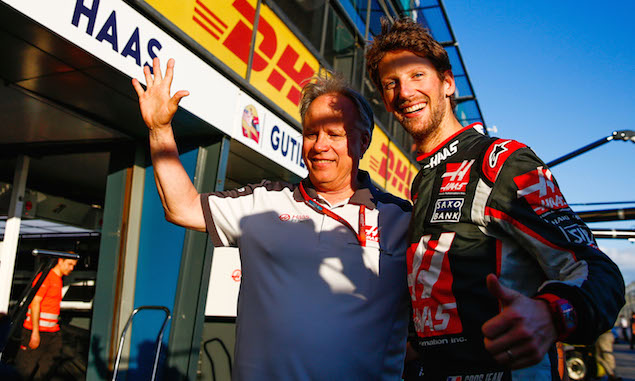 I've been through good times and tough times since debuting. Generally I'm pleased with everything I've done. Sometimes you have to wait for the wins to come to you. I'm not desperate however, they will come one day.
Overall 100 starts will be a great achievement and being part of Haas F1 Team is a big adventure. Being with this team is a big opportunity for me, I'm very proud to be a part of the team.
Of course this season we've had some good moments, and some not so good, but it's our first year and I believe it's a great place to be to celebrate my 100th Grand Prix start when it happens.
Looking at the wider picture of this year, I think the title battle will go all the way to the final race, which will be great for Formula One. It's going to be tight, I can't tell who will win between Lewis and Nico.
From our perspective, October's obviously a busy month, the highlight being our home race at the US Grand Prix in Austin. It'll just be an awesome event, and it's naturally one we're all looking forward to.
On track, we're still developing though, we've lost a bit of momentum lately. I want us to understand how to get the car better, how to keep working better as a team, and really make those improvements which can help propel us into next season. It'll be a big challenge, but we're aiming to put everything together and be ready for the future!
Click here for more from Romain Grosjean
Chris Medland's 2016 Malaysian Grand Prix preview
TECHNICAL: F1 telemetry: The data race
FEATURE: When F1 team-mates fight for the title
F1i Classic: Sepang 2001 - Ferrari pulls off a masterstroke
Keep up to date with all the F1 news via Facebook and Twitter