F1i editor Chris Medland says Nico Rosberg is a worthy world champion and proved so during Sunday's Abu Dhabi Grand Prix
Two years ago, the lights went out at the Abu Dhabi Grand Prix and I felt nervous. More than the sort of apprehension you usually get at the start of the race, I was aware that the title could be decided by an end-of-season gimmick, with the final race worth double points.
Lewis Hamilton was leading the standings by 17 points, so it was still mathematically possible for Nico Rosberg to win the title, but the permutations were different to any other title decider. As a result, Rosberg could become champion courtesy of a stroke of luck which would not have the same impact in any other race in F1's history. It didn't happen.
Today, as the five lights went from red to black, I didn't have the same feeling. Whoever was going to win the world championship was going to deserve it, because this one race was worth the same as all of the others, and all of the others had offered the same weighting of good luck and bad luck to each driver.
Hamilton - as Rosberg has since admitted - was sensational in the last four races. His form from Austin onwards has been some of his best, and the manner in which he toyed with Rosberg throughout the race in Abu Dhabi was hugely impressive. It was completely Hamilton's prerogative to manage the pace at the front of the race. He did nothing illegal, he did nothing unsporting. He was trying to beat the rest of the field to win the race and take on the added task of influencing the order of those behind, too.
Had Hamilton achieved his aim, it would have been an incredible feat, and there's no doubt he would have been a worthy champion. But just because one driver was worthy of the title doesn't mean the other wasn't.
Rosberg has produced some of his finest driving of his career this season. While Hamilton's motivation dropped at the end of 2015, his team-mate continued his momentum to win the opening four races. Granted, Hamilton hit reliability issues in qualifying in two of them, but Rosberg took full advantage.
It was a theme throughout the season, Rosberg had many easy victories - and Hamilton pointed them out - but all he can do is win when the opportunity arises. The majority of the time, Rosberg took his chances, and how many times did Hamilton say he himself had it easy at the front when he won, too?
A discussion arose mid-season among journalists in the press room: Can you name Rosberg's five greatest wins? The answer was no. It would take some researching, with many victories unspectacular. But at many times this year that was testament to Hamilton's own failings during the season, with race starts a clear weakness which the triple world champion needed to address.
Then Rosberg very nearly delivered his standout win in Austria. An excellent drive after a gearbox penalty - aided by strategy - saw him leading at the start of the final lap. He cracked under pressure, made a mistake and was then overly aggressive defending from Hamilton at Turn 2. You could argue Hamilton would have defended in exactly the same way and Rosberg not turned in, but the reality was it cost the German the win. He would learn from the episode and deal with the pressure as the season went on.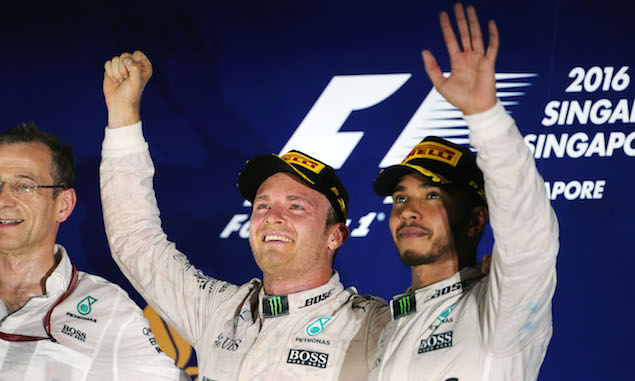 In Singapore, Rosberg was at his best. He outclassed Hamilton across the weekend and held off a charging Ricciardo when Mercedes' own desire to help Hamilton's cause with an alternate strategy almost backfired (inadvertently, I must add).
In Malaysia, Hamilton's power unit failure was a huge turning point but it also overlooks the impressive - and aggressive - recovery drive from Rosberg after being hit by Sebastian Vettel. It should only have been fourth place and Hamilton should have won, but the move on Kimi Raikkonen showed Rosberg was going to scrap for his title when he needed to.
A week later and Rosberg delivered under pressure at Suzuka, taking pole position when it looked like he may have lost out, and then easing to victory as Hamilton again made a poor start. From there, the title was his to lose and Rosberg made sure he wasn't going to lose it.
That brings us to Abu Dhabi, where the equation was simple but Hamilton tried his best to disrupt Rosberg's hopes. The move on Max Verstappen - following a number of close scraps with the Red Bull driver this season - was ballsy as the two were just millimetres apart at Turn 8. Much like Jenson Button at Interlagos in 2009, it showed a driver determined to take his chance. Rosberg's temperament was spot on, too. He remained calm, defended cleverly and did not let Hamilton's tactics get to him.
Alongside Hamilton for four seasons, and fighting for the title in three of those, Rosberg has had the pace to rattle his team-mate. Yes, Hamilton is the better all-round driver at this stage, yes he has produced some outstanding performances this year, but Rosberg has put together an excellent season, making fewer costly errors along the way.
A title isn't won based on how high your highs are or how low your lows are, it's based on how consistently you can perform across a year and deal with the situations presented to you. For that, Rosberg is a more than deserving champion.
REPORT: Hamilton wins, as Rosberg takes title in Abu Dhabi
Jenson Button's F1 career: 17 seasons, 15 wins
Silbermann says ... Parting gifts galore
Chris Medland's 2016 Abu Dhabi Grand Prix preview
Keep up to date with all the F1 news via Facebook and Twitter