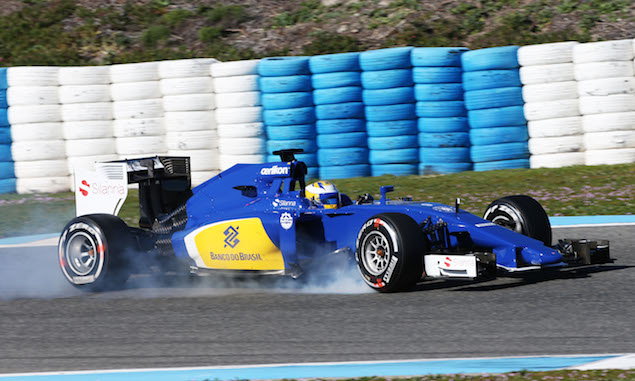 A smiling and relaxed Marcus Ericsson showed up in the Sauber tent after the Swede finished second fastest on the opening day of Jerez testing.
While Nico Rosberg proved to be in a league of his own in terms of lap count, Ericsson did manage to get substantial mileage under his belt as he clocked up 73 laps in the Sauber C34. Apart from the Mercedes, this represents the second best amount of the day, tied with Williams' Valtteri Bottas.
"It was a very good first day because we did a lot of laps, which was the main thing," Ericsson said. "The car was working without any issues. We went through more or less our programme, which is not something you do on a first day with a new car."
Asked if these early promising signs boded well for the future, Ericsson took the obligatory road of downplaying any expectations in winter testing.
"You never know where you are in testing compared to the others. I feel there is potential in the car, I had a good feeling today. We have to wait and see, get some more driving done, start working more with the set-up, because today … was about running as much as we could and gathering data."
Now in his second year of F1, Ericsson was equally buoyant on the topic of settling in at Sauber and could only find good things to share about his new surroundings.
"It feels great. The deal with Sauber was done quite early so I had some time over the winter to really prepare and get to know the people in the team. This has been perfect and I have been down to the factory quite a few times. You can feel that Sauber has a lot of experience in Formula One. They have been around for a long time and have a very good structure within the team. I have been very impressed so far."
Click here for the full gallery of the first day of testing at Jerez
Keep up to date with all the F1 news via Facebook and Twitter