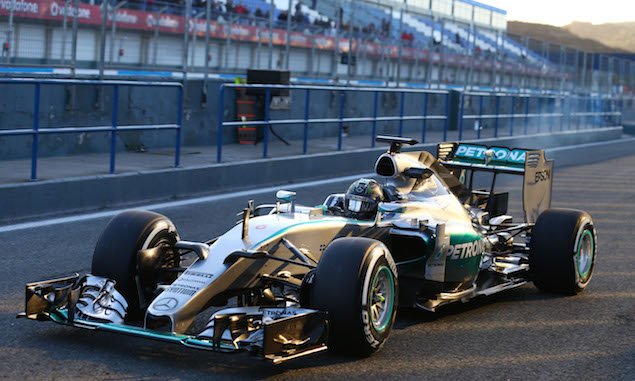 Nico Rosberg played down the pace and reliability showed by Mercedes as he completed 157 laps on the opening day of pre-season testing.
With the first test getting underway at Jerez, Rosberg completed more than twice the number of laps of any other team including one run of over 40 laps at a strong pace. Despite such an encouraging start, Rosberg said he doesn't believe it puts Mercedes at an advantage to its rivals and explained the reasoning behind such high mileage on the opening day.
"Ahead of the game? No," Rosberg said. "We got off to a good start for ourselves, not comparing to anyone else because it's not possible to compare at the moment. We can only judge based on what we wanted to achieve today and we managed to achieve that - the laps that we wanted to do and the pit stop practice at the end - so for us that was a good start.
"Reliability is very important for us because that was one of our weaknesses, maybe even the main weakness last year. It's very important for us to nail that and so we need to use this opportunity in testing to find all the problems and try to get them all sorted before we get to the first race."
And Rosberg said Mercedes is not expecting to enjoy the same advantage as at the start of 2014 but is just targeting having the quickest car.
"We have Red Bull for example, who just one year ago they were the untouchable team. That's only one year ago, so you can expect them to be very strong. Then you have Ferrari, then you have McLaren with the new Honda. Williams was right on our tail at the end of the season, they finished the last race three seconds away from us and Lewis [Hamilton] was pushing in the last race.
"In many ways we definitely expect our competitors to close the gap and we have a close eye on them. We hope that we've done enough over the winter and made enough progress to stay ahead."
Click here for the full gallery of the first day of testing at Jerez
Keep up to date with all the F1 news via Facebook and Twitter