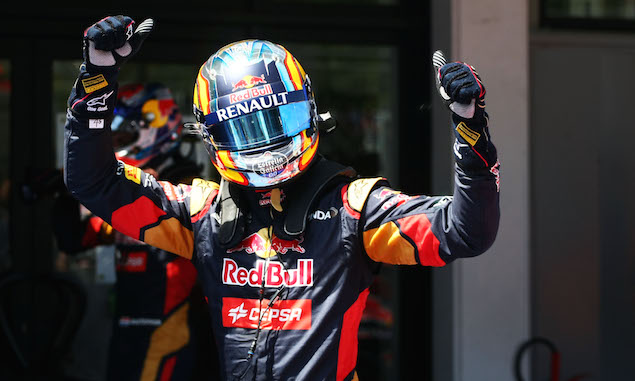 Carlos Sainz says qualifying in fifth place at his home grand prix was like securing a pole position for Toro Rosso.
The Spaniard will start from the third row alongside team-mate Max Verstappen after a hugely impressive qualifying performance from the two rookies. With Sainz delighting his home crowd on Saturday afternoon, he admits it is a special result for the team.
"You obviously have a lot more interviews and photos to take, press conferences and all that, but to be honest I didn't realise I was in Spain until the Q3 in lap, when I suddenly came out of my qualifying bubble and I looked around to see all of the crowds cheering," Verstappen said.
"I realised this must be for me! For the first time in the season, I was waving to the crowd and it felt like a pole position. It is the same feeling."
And Sainz says Toro Rosso has not been able to show its true performance on the first four tracks this season.
"We have a very strong aero package and Barcelona is a lot about the aero. The upgrade we brought for T3, it was out of the box and still the car was fully loaded, a lot of downforce and was there.
"Then we had some tracks where there were very long straights that didn't benefit us a lot, but finally we came to a track that suits our car and we are there. The whole season I have been saying we have a great car, so everything is working really well."
Click here for Saturday's gallery from the Spanish Grand Prix
Keep up to date with all the F1 news via Facebook and Twitter