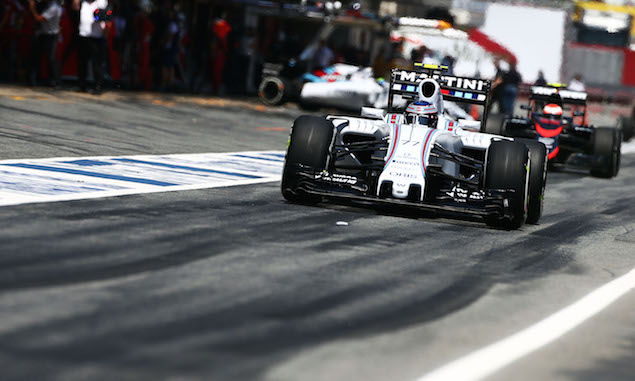 Valtteri Bottas says Williams can beat Ferrari in the Spanish Grand Prix having qualified fourth in Barcelona.
With Kimi Raikkonen again struggling in qualifying, Bottas took full advantage to secure a spot on the second row alongside Sebastian Vettel. Williams is confident it will be competitive over a race distance after Friday's long runs and Bottas says his target is to at least keep Raikkonen behind him.
"A good qualifying," Bottas said. "It was trickier in the afternoon than in the morning because of the wind, but that was the case for everyone. It is building up through to qualifying, no issue, getting into Q3 and then with the two sets in Q3 had a good couple of runs, the second being better.
"I think in the first run in Q3 I took a bit too much out of the tyre in the first two sectors and I lost out in the last sector with the tyres giving up, so the second one is better because I paced myself a bit more. I am happy because it is a good starting point for tomorrow. I think we can have some fun and try and split the two Ferraris."
Felipe Massa will start from ninth place, but he says he had the pace to be up with his team-mate but for an error on his final run in qualifying.
"I am so disappointed for Q3 because things were going pretty well," Massa said. "We had a little issue in Q2 that I didn't have a very clean lap on the first set of tyres, so the team was a bit afraid and wanted me to go again, but it was not necessary because it was enough to pass.
"Then I just had one set for Q3 and the wind started to pick up, so I got to corner three and the wind pushed me a little wide and I didn't want to back off, but when I touched the green part on the exit, it pushed completely off the track and I lost maybe eight tenths. Then I got to corner four with dirty tyres, I just had a problem on the whole lap.
"Unfortunately because qualifying was going very well and we were going to start with both cars in the top five, but I am ninth. It is not good but we need to concentrate for tomorrow."
Click here for Saturday's gallery from the Spanish Grand Prix
Keep up to date with all the F1 news via Facebook and Twitter