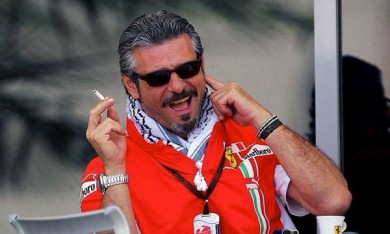 It is often said that it's hard to quit smoking because cigarette manufacturers make it hard. In Ferrari's case, it remains hooked on tobacco thanks to a lucrative deal with its historic sponsor Philip Morris International.
According to a report by Bloomberg, Philip Morris renewed its backing of the Scuderia for an additional three years, even though worldwide advertising laws prohibit the display of the Marlboro brand on the Italian cars. It has transpired that the multinational group's board actually made the decision over a year ago but has remained discrete on the matter, respecting its typical quiet policy when it comes to its long-standing relationship with Ferrari.
The Scuderia's current deal with the New York-based company is estimated to be worth $160 million annually. One will also note that Ferrari Chairman and Fiat Chrysler CEO Sergio Marchionne is a non-executive director of Philip Morris, while the Scuderia's Team Principal was hired at the end of last year from the tobacco conglomerate, where he was a marketing executive.
While its branding is no longer visible, although the red-and-white square which adorns the Italian machines is close enough, Philip Morris obviously benefits from the relationship, leveraging its partnership through synergies and by inviting clients and business partners to races and to Maranello.
Click here for Wednesday's gallery from testing at the Circuit de Catalunya
Keep up to date with all the F1 news via Facebook and Twitter