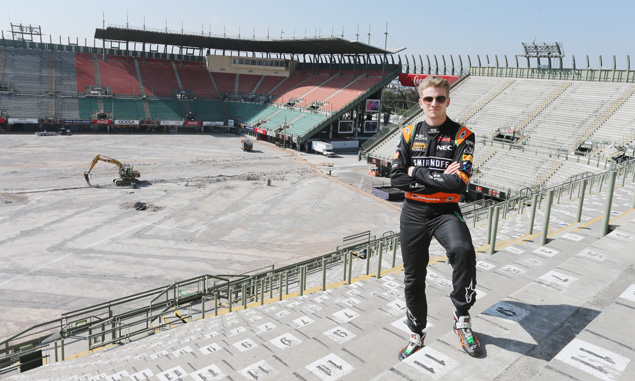 Nico Hulkenberg rates 2014 as his "best year in Formula One so far" and wants to improve on it with Force India this season.
Having returned to Force India from Sauber, Hulkenberg started the season with ten consecutive point-scoring finishes, which included finishing fifth on four occasions. With Force India unveiling its new livery in Mexico City, Hulkenberg explained why he felt he had enjoyed his best season in the sport last year.
"I believe 2014 was my best year in Formula One so far," Hulkenberg said. "It was the moment when I felt I really arrived and became comfortable with everything that surrounds the job. The main thing I learned is that even if you struggle in qualifying, there is still a good opportunity to have a strong race. It's more important to have consistent race pace and the right strategy on Sunday. We proved that on several occasions last year."
While yet to score a podium in F1, Hulkenberg refused to make it a specific target for 2015 but says he wants both himself and Force India to improve on last season.
"I hope for spectacular things! That means scoring many points, great racing and lots of fun. I'm part of a team that is growing and hungry for more. 2014 was our best season yet so we need to aim to go a step further this year and give the teams ahead of us a harder time."
Click here to see the full gallery of Force India's 2015 livery launch
Keep up to date with all the F1 news via Facebook and Twitter