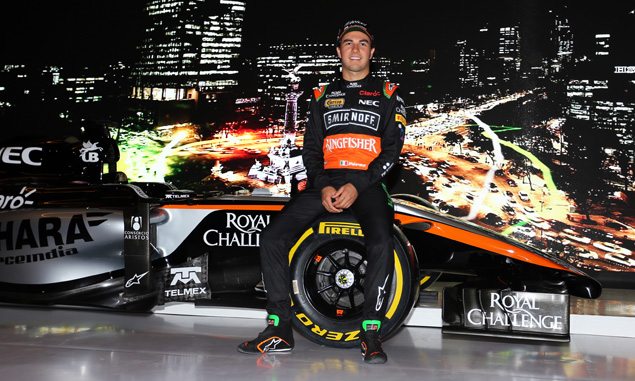 Sergio Perez says he is looking to take the momentum of a strong end to 2014 in to the new season as he targets more podiums for Force India.
In his first season with Force India last year, Perez had a standout early result with third place in the Bahrain Grand Prix, giving the team only the second podium in its history. While he struggled to match the consistency of team-mate Nico Hulkenberg, Perez scored points in all but two of the final eight races and outscored Hulkenberg 30 points to 27 over the same period. Having shown the signs of improvement at the end of 2014, Perez said he wants to continue that form this year.
"I'm very excited about 2015," Perez said. "It's my second season with this team so that always makes things easier. I feel very relaxed about the new season in a good way. The regulations are not changing and I believe that will benefit us as a team. It means the development from last year can continue and we don't have to start everything from zero again.
"I like these regulations and the V6 engines helped produce close and competitive racing. At the end of 2014 I was feeling very confident in the car and I want to carry this momentum into the new season. I want more podiums in 2015."
And Perez takes added motivation from the opportunity of having a home race to look forward to this year with the Mexican Grand Prix returning to the calendar.
"It's going to be a massive moment for me and I can't help smiling when I think of racing in front of my home fans. Everywhere I go I see lots of excitement and everybody is already asking me where they should stay and where they can get the best food! It's a very proud feeling to see the sport I love come back to Mexico and I'm sure it will be an amazing event for the fans."
Click here to see the full gallery of Force India's 2015 livery launch
Keep up to date with all the F1 news via Facebook and Twitter