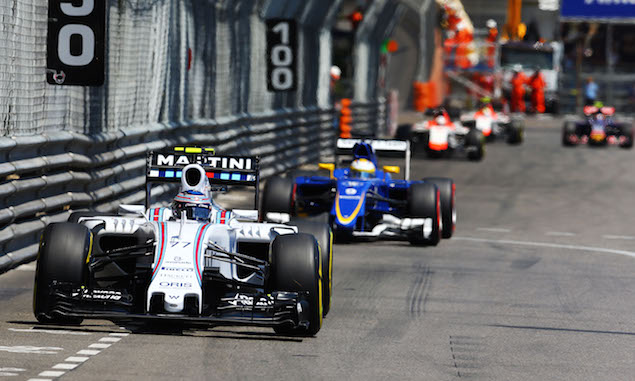 Williams head of vehicle performance Rob Smedley says the team needs a thorough investigation in to the reasons why it was so uncompetitive in the Monaco Grand Prix.
Having scored a minimum of 12 points at each of the opening five rounds - even despite only one car running in Australia - Williams failed to score in Monaco with both drivers qualifying near the back of the grid. Valtteri Bottas and Felipe Massa came home 14th and 15th respectively, and Smedley says the team's previous form means it has to understand all the reasons why it was so far off the pace in Monaco.
"The right approach is that we go away from here and we understand why we've got ourselves in to this situation," Smedley said. "Williams has aspirations to become once again a top team. I've said it before and I'll keep repeating it, if you want to be a top team you can't fear anywhere. You can't come to Monaco and say 'we have a weekend off in Monaco'.
"Up to now the car has been good enough to get between 18 and 22 points at every single race and we kind of hit that target on most occasions. So you can't come to this one race and think that you can have a weekend off. If the car is good enough to get 22 points at all the other tracks - which is a great mix and myriad of different circuits - then we've got to be able to come here and get 22 points.
"So yes, I'm incredibly disappointed, even on a personal level really, but we now just have to go away and look at all aspects of the performance here. What we shouldn't do, what is entirely the wrong approach, is to pinpoint one area and jump to all sorts of conclusions before we've been through all the analysis. We need to regroup as a team and go through every single part of it.
"So the inherent car performance, the aerodynamics, the mechanical parts, the car set-up, how we operate the tyres, everything. We have go to make sure we've done due diligence in all of those areas so we end up we come out of it with some answers and a plan of action for next year."
Click here for a gallery of Max Verstappen's crash with Romain Grosjean during the Monaco Grand Prix
Keep up to date with all the F1 news via Facebook and Twitter