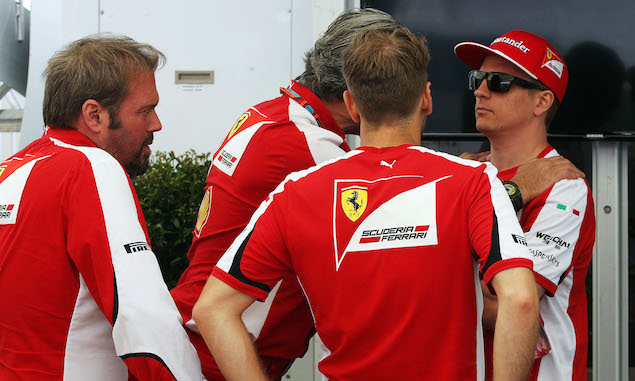 Kimi Raikkonen says he does not pay attention to whether he is in contention to win the drivers' championship this year or not.
With Ferrari emerging as Mercedes' nearest challenger so far this season, Sebastian Vettel has finished on the podium in five of six races and is just 28 points behind championship leader Lewis Hamilton. Raikkonen, however, has struggled compared to his team-mate, and just one podium this year has left him 66 points adrift of the lead in fourth place.
"I don't think about the title," Raikkonen said when asked if his recent results had ruled him out of the title race. "We try to go race by race and do the maximum, then obviously we can see at the end where we are. We know we still have work to do to be where we want to be, we have improved a lot if you look at where we started at the end of last year, but there is still work to be done still.
"There is a correct way of doing things and the direction is right, but we want better results as a team. it hasn't been an easy start to the year, but we just have to find out some things and do better work overall and from that better results."
And Raikkonen admits his own qualifying performances have to improve if he is going to be able to match Vettel's results.
"Obviously, I know where we have to improve, nobody has to tell me, it is an easy thing to know. We put ourselves in difficult positions on many Saturdays, so if we improve that we have good speed in the race but I am starting where I shouldn't, so it makes it a difficult race for us."
Click here for technical analysis of the braking challenge at the Canadian Grand Prix
Keep up to date with all the F1 news via Facebook and Twitter