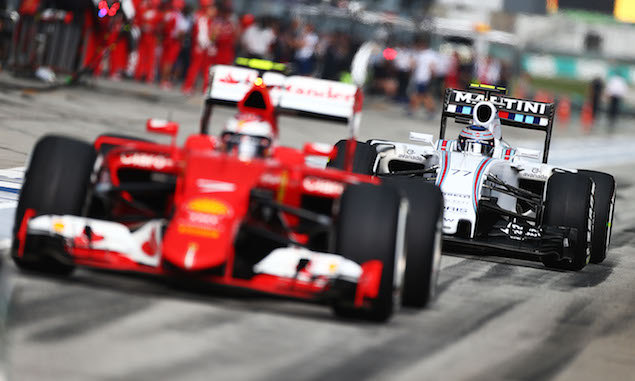 Rob Smedley admits he hopes Ferrari was running light compared to Williams and Mercedes ahead of today's Canadian Grand Prix.
Kimi Raikkonen starts third ahead of Valtteri Bottas in Montreal, with Bottas saying Williams is willing to take some risks to try and secure a spot on the podium. With Raikkonen and Sebastian Vettel showing strong race pace during the practice sessions on Friday and Saturday, Smedley suspects the lap times were due to the cars being fuelled lighter than Ferrari's rivals.
"I hope so!" Smedley said when asked if Ferrari had been running light. "If not, they found in race trim about 1.5 compared to everybody.
"I am guessing it was a fairly ... not an entirely normal standard practice session so I am guessing they were doing something a bit different, Kimi ran a new option and a new prime, and certainly we now what the delta is between option and prime and it is pretty clear that they didn't put 60kg in from the first run.
"And Seb did run the option and kept that option on, if you go back and look at what we did and what Mercedes did we had same offset in lap time and similar run between us and them and usual offset between cars and Ferrari was a bit of an outlier; we will see in the race."
With Felipe Massa starting out of position following a wastegate problem in Q1, Smedley says Williams will also be aiming for the Brazilian to beat Red Bull.
"The hope is that he can get his car in front of the two Red Bull cars. The championship has evolved in to us being out in third positon, Red Bull behind and I think the number one priority with him tomorrow is to ensure that he outscores at least one of their cars to help us increase that gap back to third as hopefully Valtteri will help us do it as well."