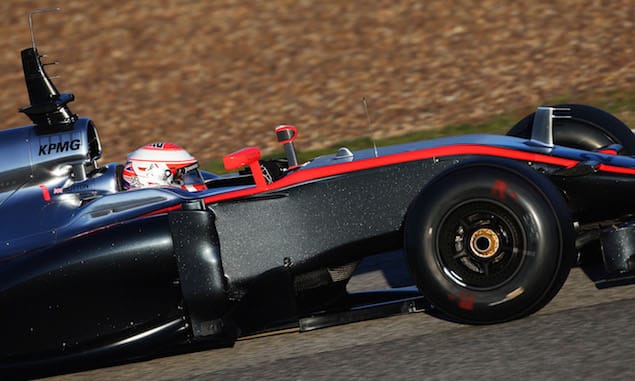 Jenson Button is using Red Bull's example from 2014 as his motivation after another tough day of testing for McLaren-Honda.
After Fernando Alonso managed just six laps on the opening day of the first test at Jerez, Button was similarly hampered by reliability issues on day two as he completed the same amount of mileage. However, with Red Bull enduring a tough pre-season last year but then being quick at the first race, Button said it shows how quickly a team can recover.
"You look at where Red Bull were at the first couple of tests, and even the last test, and then move on to Australia, and although they got the result taken away from them, they were second at the first grand prix, so a lot can happen," Button said.
"We always knew the first test would be difficult. It's not about sticking an engine in the car and powering around, it's a very complex system. We've had a few niggly things we've been able to solve, and tomorrow we will see where we stand.
"Obviously we want to put in as many laps as we can and learn as much as possible, putting mileage on the parts and getting experience for us all with the new power unit. Hopefully we'll then get to the first race and be competitive."
And Button expects the final two days of testing to allow smoother running for McLaren after the work done on Monday.
"It's not the easiest start to the season, but as we know it's a very complicated power unit. We will get our heads around it. In terms of the problems we had today we have our head around it and understand the issue, so we're hoping for a much more productive day three and day four."
Click here for the gallery of the second day of testing at Jerez
Keep up to date with all the F1 news via Facebook and Twitter