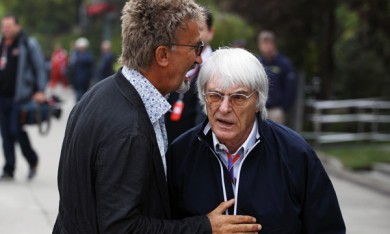 Former team owner Eddie Jordan believes Formula 1's management is in dire need of some big changes, and suggests the time has come for Bernie Ecclestone to step down.
Private equity firm and F1 owners CVC Capital Partners are in talks with a US-Qatari led group to sell its 35.5% controlling interest in the sport. Ecclestone confirmed the negotiations to the Financial Times earlier this week, and said that his own 5% stake in Formula 1 would also be sold as part of the alleged deal.
Speaking to the BBC's Radio 5 Live, Eddie Jordan says it is now time for 'somebody radical' to take over.
"I think he's done a remarkable job, but time has played its role and he should go," Jordan said. "We need to leave it for the next generation in a better state. He has to keep asking himself that and where the time frame is for him to leave. I think it's now."
The BBC's F1 pundit and consultant expressed his utmost respect for Mister E., acknowledging the supremo's incredible run at the head of Formula 1, but believes younger and more adequate blood should be brought in to guide the sport into the next era.
"The man is a legend. He has taken the sport from absolutely nowhere but, at the end of the day, he's not immortal. He may think he is but he's not. There are times you have to say, 'Look, I've done everything that I can do'. It does need somebody radical in there who is going to really shake it all about and go back to basics.'
Click here for FIA President Jean Todt's thoughts on the current state of F1
Keep up to date with all the F1 news via Facebook and Twitter