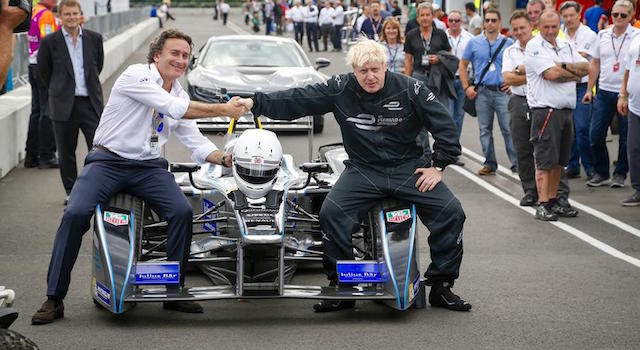 London will host the last round of the Formula E series on Saturday, and Mayor Boris Johnson was on hand on Friday to take one of the full battery-powered cars for a spin around the temporary Battersea Park street track.
Accompanied by Alejandro Agag, the CEO of Formula E Holdings, Johnson praised the organisers of the E Prix event, labeling the site a 'wonder-venue' for London and underlining the green credentials and environmentally quiet cars, even claiming he could 'hear the squirrels' as he went around the track!
But the flamboyant City Mayor also reiterated his interest in bringing Formula 1 to the capital of Great-Britain, a prospect often discussed by Bernie Ecclestone, who said in the past that he would offer to fund the endeavour such was his belief in its success.
"I am certainly willing to look at it," Johnson said on Friday. "I am always interested in projects that attract jobs and bring growth. The question of air quality and noise impact will have to be looked at. I am broadly positive providing we can satisfy the air quality and noise issues."
In addition to the necessary complex logistics associated with any street race Grand Prix, and with Ecclestone eventually covering organizational costs, the city would still be accountable for paying the hefty race fee demanded by FOM. Any use of public funds would certainly attract opposition from within the local government, and could in the end make or break the possibility of a London Grand Prix.
Click here for FIA President Jean Todt's thoughts on the current state of F1
Keep up to date with all the F1 news via Facebook and Twitter