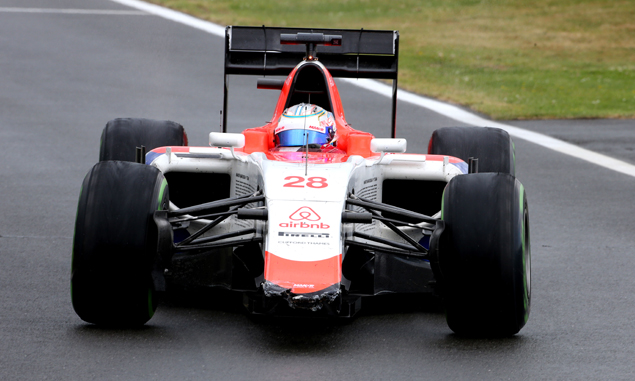 Will Stevens labels his British Grand Prix weekend "extremely positive", although the Manor driver admits it was also "extremely frustrating" to finish 13th after crashing in the wet.
The former Marussia squad had brought an update to its current MR03B to Silverstone, with Stevens immediately saying the car felt "quite a big step better" and team-mate Roberto Merhi eventually securing the outfit's best result of the year with P12 on Sunday.
"Overall the weekend has been extremely positive," Stevens told F1i. "My pace has been probably the strongest it's been all year. The car is moving forward. Situations like that with mixed conditions, it always spices things up and even if it did not go our way we should look at the positives.
"The start was good: I managed to get ahead of a few cars because there was a crash.
"I got up to 12th, I knew one of the McLarens was still running – I know they struggle a little bit with reliability – but in those conditions you need to make every single decision perfectly and everything's got to fall your way.
"Up until 10,11 laps to go, everything was going our way. I felt really happy with the car, the balance of the car was getting better and better and I felt good. At that point I was still managing the tyres and everything was going the right direction so for it to end like that is extremely frustrating."
Stevens eventually went from getting a sniff at his maiden Formula One points finish to being the last driver classified when the Briton spun off track and lost his front wing. But the 24-year-old explains the mistake only happened as a result of a wrong strategic decision and lengthy pit stop.
"When the rain started to come, I told the team and they made the call to pit then, which turned out to be too early. When I came in the pit lane, they were not ready for me, so I lost about 15 seconds when they were sorting out which tyres to put on. So we need to look into that why the reasons were for that to happen.
"When we went out, it was still too dry for the inters. After two or three laps, the tyres were completely gone. And after another four of five laps that's when the rain started to come. So when I came off the track that was when I was on inters that had been completely destroyed for doing seven or eight laps in the dry."
Click here for F1i's driver ratings from the British Grand Prix
Keep up to date with all the F1 news via Facebook and Twitter