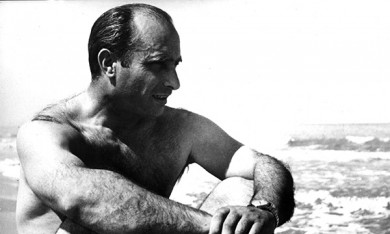 The shocking exhumation process of five-time World Champion Juan Manuel Fangio's remains has been temporarily suspended by a judge in La Plata, the capital city of Buenos Aires.
Last week, a court in Mar del Plata ruled that the legendary driver's body should be exhumed in order to conduct DNA testing to verify claims made by Oscar Cesar Espinoza who alleges to be Fangio's son.
The process has been delayed however following the emergence of a second claim from Ruben Vazquez, with the court in La Plata ordering the suspension of proceedings pending the outcome of Vazquez' case which was apparently initiated prior to Espinoza's claim.
Fangio never recognised any children during his life, and was never married although he did enjoy a long-term relationship with companion Andrea Berruet, the mother of second claimant Espinoza.
Fangio passed away twenty years ago this week, at the of 84 years-old.
Click here for an exclusive Q&A with Red Bull's Adrian Newey
Keep up to date with all the F1 news via Facebook and Twitter