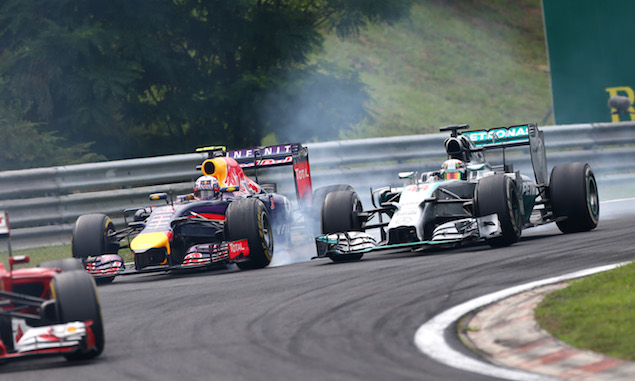 Daniel Ricciardo rates his victory in last year's Hungarian Grand Prix as his best win of 2014.
The Red Bull driver took three wins last year, his first three F1 victories coming in Canada, Hungary and Belgium. The second of those saw him pass Lewis Hamilton and Fernando Alonso in the closing laps, but heading to Budapest this year, Ricciardo says it's a track which doesn't usually result in exciting racing.
"It's a great, great track for a qualifying lap, one of the best of the year," Ricciardo said. "It's tight, twisty and bumpy, and you have to use a lot of kerb – so getting in a low fuel, new tyre lap right on the limit it's lots and lots of fun. But, for the same reasons the race tends to be quite tight with not a lot of overtaking."
An exception to Ricciardo's concerns regarding the race came in 2014, when he climbed through the field to win late on and he admits it was the best of his three wins last year.
"Last year was a great race for me! Of the three wins last year, it was the one where I was definitely most excited during the race. It's tough for me to judge but probably it was the best performance of the three, purely because of the people I passed to finish in the lead.
"I had tyres in better condition – excellent strategy from our guys – but Fernando and Lewis don't let you have the places for free – I had to really work for it!"
Click here for an exclusive Q&A with Red Bull's Adrian Newey
Keep up to date with all the F1 news via Facebook and Twitter