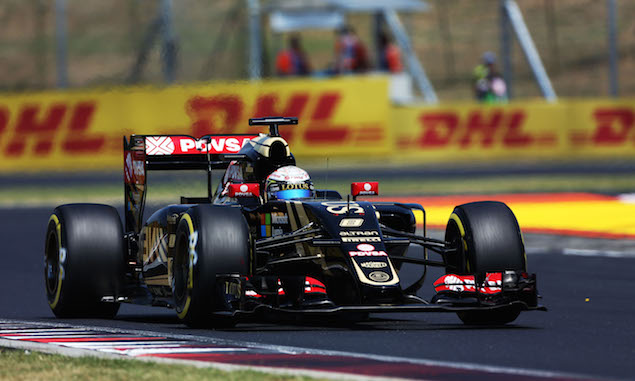 Romain Grosjean described his qualifying performance as a "miracle" to be able to qualify in the top ten for the Hungarian Grand Prix.
The Frenchman produced an impressive lap to make it through to Q3, while Pastor Maldonado dropped out in 14th place - 0.8s slower than his team-mate - after making an error. When asked how his qualifying had been, Grosjean replied: "A miracle!
"We were clearly not expecting to get in to Q3. Our first mission was to get in to Q2, which didn't seem that easy initially, and we did that and then the lap in Q2 was absolutely beautiful.
"In Q3 we struggled a little bit with the out lap, we were last in the queue and it was a very slow out lap so we didn't get the grip from the tyres, but if everything was going perfectly well it was P9 and if things were not going well it was P10. So in the end I don't think we would have bet anything on thinking we could get in to Q3."
However, when asked how the Lotus race pace is looking, Grosjean said: "Shit!
"That bad, but we made a lot of changes from yesterday to today and yesterday I did really struggle. I completely cooked my rear tyres from the third lap onwards and probably we needed to drive a little bit differently than it was in the previous races. For tomorrow it's going to be much better.
"Normally our qualifying pace is not very good and then our race pace is alright but yesterday our race pace wasn't good at all. Tomorrow it's going to be some work in the car but I think we're in the right direction with the set-up so it should be better."
AS IT HAPPENED: Hungarian Grand Prix qualifying
Click here for a gallery of Sergio Perez's crash in FP1 at the Hungarian Grand Prix
Keep up to date with all the F1 news via Facebook and Twitter