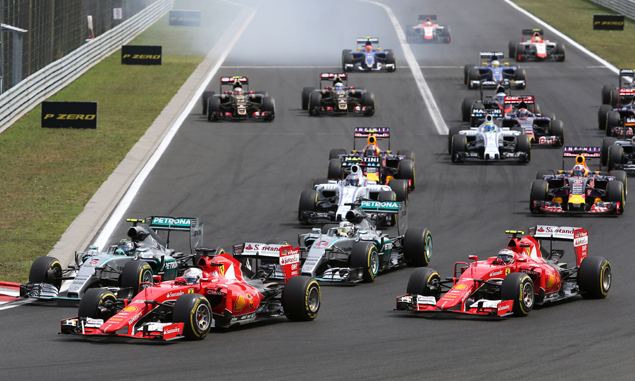 Mercedes motorsport boss Toto Wolff admits he is "very concerned" by his two drivers experiencing sluggish getaways over the past couple of F1 Grand Prix.
Having locked out the front row in Britain and Hungary, pole sitter Lewis Hamilton and second-placed Nico Rosberg were beaten off the line on both occasions.
While the Mercedes duo was able to recover and claim another one-two at Silverstone, their slow Budapest start escalated into further drama as Hamilton nearly collided with his team-mate on the opening lap and dropped down to 10th.
"I'm very concerned," said Wolff. "We were jumped by the two Williams at Silverstone, jumped by the two Ferraris in Hungary, which triggered the mess and the lap-one incident.
"We need to get on top of the situation, analyse it because it is unacceptable.
"I think there are many reasons, not just one in particular, but if you look at it, it is not good."
Drivers actually had to carry out an extra formation lap last Sunday after Williams' Felipe Massa had lined up on the wrong grid slot.
"From what I heard on the radio we had two very good practice starts off the line," added Wolff. "But then when it mattered we had too much wheelspin and were overtaken in a way you can't recover."
Starting procedures have been a much-debated topic in recent weeks following the FIA's decision to put more control back into the drivers' hands when the lights go out.
Formula One's governing body thus rubber-stamped a fresh clampdown on information being given in the build-up to the race, which will be implemented from next month's Belgian Grand Prix at Spa-Francorchamps onwards.
Both Hamilton and Rosberg have already admitted they are expecting "more difficult" starts as a consequence of the latest restrictions.
Click here for F1i's driver ratings following the Hungarian Grand Prix
Keep up to date with all the F1 news via Facebook and Twitter