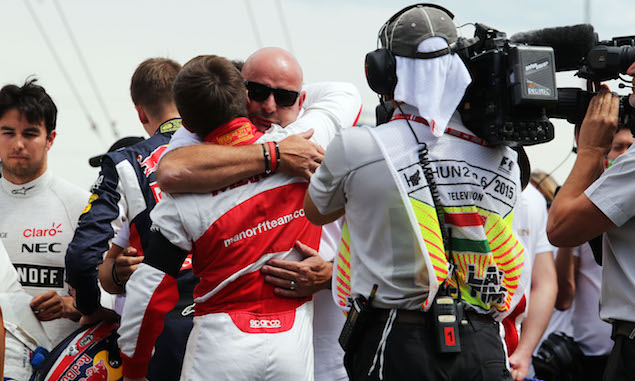 Manor sporting director Graeme Lowdon says the team needs the mid-season break to recover from the emotion of the past nine months.
The former Marussia team endured Jules Bianchi's crash and then went in to administration before returning to the sport as Manor ahead of the start of the season. While the team is still rebuilding, it had to deal with Bianchi's death earlier this month, and Lowdon told F1i it was a big challenge for the team just to race in Hungary last weekend.
"It's just been a tough weekend at the end of a tough nine months," Lowdon said. "Everyone in the team likes racing and I know Jules wouldn't thank us if we weren't fully committed to trying to do the best race that we can, which is obviously what we did."
And Lowdon says the past two weeks have been an incredibly tough time on top of a challenging return to F1 for the team.
"We go away and people forget it's been non-stop on the commercial side since last year. Pulling the team together ahead of Melbourne, then straight in to racing - relentless racing - and now we've reached the industry shutdown whereby virtue of the rules we're forced to take a break.
"It couldn't come at a more welcome time, I think. It's been physically and mentally a very difficult time. It's been emotionally very difficult for everybody and so it's nice for the guys to be able to go home, spend a bit of time with their families and get batteries recharged ahead of Spa. We'll come out refreshed and ready to go."
Click here for F1i's driver ratings following the Hungarian Grand Prix
Keep up to date with all the F1 news via Facebook and Twitter