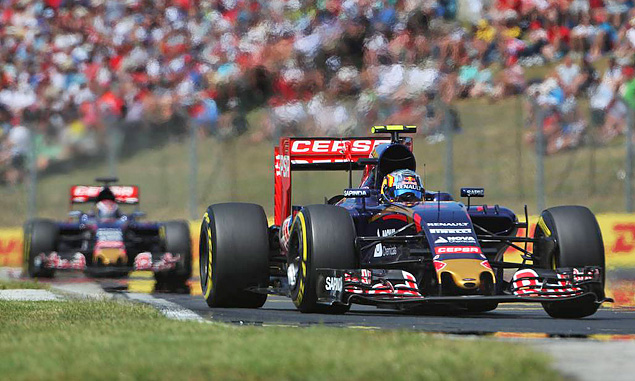 Carlos Sainz was left frustrated at missing out on scoring significant points having had to retire early from the Hungarian Grand Prix despite running as high as fifth.
Sainz explained that problems with his pit stop and race strategies together with terminal issues with the power unit in his Toro Rosso had conspired to deprive him of what had looked like a very good day at the Hungaroring on Sunday.
"We had some pit stop troubles, some strategic troubles and some reliability problems - it means that we're not there," he said. "I'm not concerned about my performance or anything because I know I was right up there.
"To be honest I'm also a bit disappointed with the way we planned the pit stops. We had to undercut the Williams and I was just stuck behind him and we didn't do it, while behind me both both Fernando [Alonso] and Max [Verstappen] did.
The strategy misfire meant that with 15 laps to go, the Spaniard was struggling on older and slower prime tyres when trying to hold off the much-faster Fernando Alonso in a spirited battle for position.
"All of a sudden they told me I was P5, and I had to hold off Fernando [who was on] options and a Lotus with an option and I think I was doing a good job holding on. Suddenly just after Fernando overtook me I ran out of power and everyone started to fly past me.
"I ran out of battery first and then in the middle of the straight I had missive clips and I couldn't go over fifth gear. It's a real pity, again another race we're in the points - especially big points this time - that we don't finish ... Difficult to take, but sometimes the sport is like that."
At least Sainz was able to enjoy his on-track battle with his compatriot while it had lasted.
"It was fun, it was good fun. Tough, obviously, to fight with Fernando, but at least I tried my best with much worse tyres that I had at that point, but was having fun giving each other space knowing that he had much more grip [than I did]."
In the end, after plummeting down the running order on reduced power he was forced to retire on lap 60 still nine laps shy of the chequered flag. However Sainz was looking on the bright side of the weekend's performance, with Verstappen's fourth place proving the Toro Rosso is finding some decent race pace.
"It's a great result for the team. Points mean money at the end of the season so they are more than welcome.
"Now we have the summer time to come down, reset a bit, and go for results in the second half [of the season]. The performance is clearly there, the start was good, the pace was really great - just when it has to come, it doesn't come."
Click here for F1i's driver ratings following the Hungarian Grand Prix
Keep up to date with all the F1 news via Facebook and Twitter