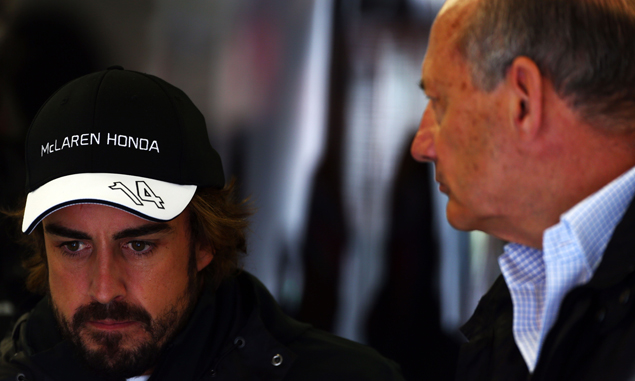 McLaren Group CEO Ron Dennis says he is frustrated by the ban on F1 testing and believes Fernando Alonso feels the same, while also branding the cost-saving measure "a false economy".
With power unit partner Honda experiencing a tough return to the sport this year, the Woking-based team has scored 17 points so far and languishes in ninth in the Constructors' championship ahead of only F1 minnows Manor.
While Alonso has repeatedly claimed to be thrilled by the new McLaren-Honda project and always expected to go through some initial hardship, the double world champion has also recently hinted at a potential career change.
Dennis feels the Spaniard's annoyance mainly stems from F1 teams being prevented from sampling new developments during the season.
"I think Fernando shares my frustration, which is not being able to test when you are not competitive," said the 68-year-old. "It is such a huge handicap.
"It is much more difficult to improve both the performance of the engine and the performance of the car.
Although the F1 testing ban was laid out as part of a broader cost-saving plan to make the sport more sustainable, the McLaren Group CEO thinks it is achieving the exact opposite.
"It actually doesn't save money as we have to bring developments to the cars in quantities without proving it out.
"We don't always get it right, and when we don't get it right, we waste money. So it is a false economy.
"It is more about hampering the performance of the larger teams than it is about really saving money: it doesn't save anybody money but the smaller teams.
"That isn't what F1 is about. F1 is about competition, not about handicapping. And perversely the biggest handicap in F1 is no testing."
Eric Boullier exclusive interview: Steadying the McLaren-Honda ship
Click here for a lighter look at some scenes from the Hungarian Grand Prix
Keep up to date with all the F1 news via Facebook and Twitter