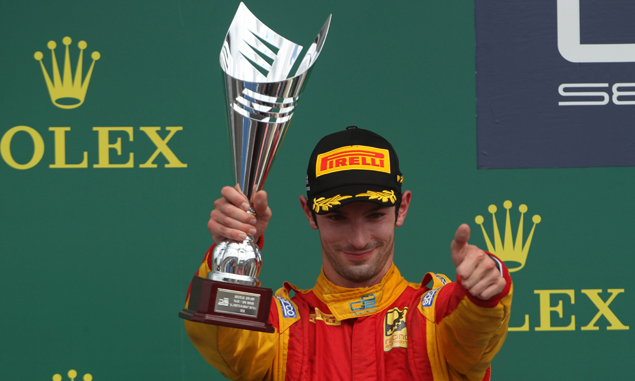 US GP2 racer Alexander Rossi says he has not made any further headway in securing a seat with American newcomers Haas F1 team, and would welcome any opportunity "with open arms" regardless of the squad.
The 23-year-old came very close to make his F1 debut last year when Marussia announced he would race at the Belgian Grand Prix. But an 11th hour agreement eventually saw regular driver Max Chilton reclaim his seat in due time.
Ever since Haas decided to join the fray in 2016, Rossi has been tipped as a prime candidate to become the first US F1 driver since Scott Speed left Toro Rosso with fracas in mid-2007.
But when asked by NBC Sports whether there had been any breakthrough in that area, Rossi replied:
"Nothing's changed.
"Haas, as most F1 teams are concerned, they look at their driver line-up towards the end of the year, so we're not quite there yet."
Despite having also made a couple of FP1 appearances with the now defunct Caterham team, the American could not secure a spot on this year's F1 grid and returned to GP2 series with Racing Engineering.
As the season reaches its midway point, Rossi occupies third place in the Drivers' standings with four podiums, though he is yet to claim his second career victory in the category.
The US ace is also a proven race winner in GP3 and Formula Renault 3.5 and now looks to utilise the second half of 2015 as a springboard to finally graduate to the top echelon next year.
"My goal has always been to drive in F1.
"It hasn't been a dream with a specific team, it has been to get on the race grid and to prove myself that I deserve to be in the championship.
"Obviously any opportunity that comes my way that allows me that opportunity is one that I'll welcome with open arms."
"I'm trying to do what I can in GP2 for the second half of the season."
Eric Boullier exclusive interview: Steadying the McLaren-Honda ship
Click here for a lighter look at some scenes from the Hungarian Grand Prix
Keep up to date with all the F1 news via Facebook and Twitter