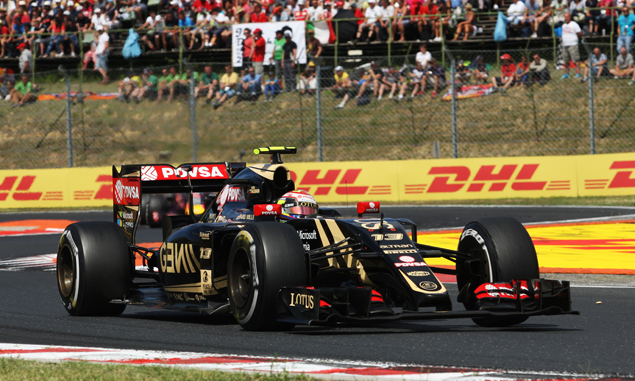 Pastor Maldonado hopes Lotus will bring a significant upgrade to its E23 after the summer break, though he says the current level of performance remains "very positive".
After a torrid 2014 campaign that yielded only 10 points, the Enstone-based squad has managed to bounce back this year, partly thanks to its new Mercedes power unit.
Lotus' latest charger also has better aerodynamics than its predecessor, but Maldonado explained in Hungary that the E23 has not received any major development in that area save for a revised wing at Monte Carlo.
"The rear wing was just for Monaco," said the Venezuelan. "It was a high-downforce one, which is the same as the one we were using [at Budapest]. At this kind of track it is working, but maybe not in Barcelona.
"There have been no more upgrades since the beginning of the season, not big upgrades but, for sure, we have been doing a few things around the car.
"Hopefully, we can have [an important evolution]. It is not clear yet, but we must be very close to having a big one soon. It is the moment to do that, and it should be a good one, so hopefully we can get it soon."
Maldonado's own campaign has been quite topsy-turvy, as the 30-year-old kicked off 2015 with five DNFs in the first six races. The ex-Williams racer then delivered a pair of strong performances by securing P7 in both Canada and Austria.
Maldonado was then punted out of the British Grand Prix following contact with team-mate Romain Grosjean on the opening lap, while last weekend's Budapest was typified by the Venezuelan's antics and resulted in three penalties.
Despite all these missed opportunities, Lotus remains within striking distance of fifth-placed Force India (4 points), which introduced a heavily upgraded car last month, and ahead of Toro Rosso in the Constructors' standings.
"Everyone else has made steps," added Maldonado. "But if you look at our performance, even without any upgrades we always continue to be there, which is very positive."
Eric Boullier exclusive interview: Steadying the McLaren-Honda ship
Click here for a lighter look at some scenes from the Hungarian Grand Prix
Keep up to date with all the F1 news via Facebook and Twitter