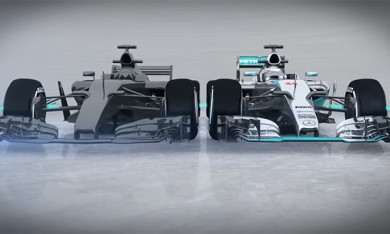 Formula 1 is expected to implement a major technical revolution in 2017.
Plans are currently underway to render the present generation of F1 cars faster, but also aesthetically more appealing.
Should the teams validate the blueprint presently under review, changes include larger rear wheels with width increasing from 380 to 420mm.
Aerodynamic changes would also enhance the extent of the front wing while the rear wing would lay lower, above a diffuser lengthened in order to improve down-force.
The envisioned changes were outlined in the video below by Italian technical journalist and artist Giorgio Piola, who based his renderings on this years' Mercedes W06.
Click here for F1i's mid-term report on how the Formula One teams have fared so far in 2015
Keep up to date with all the F1 news via Facebook and Twitter