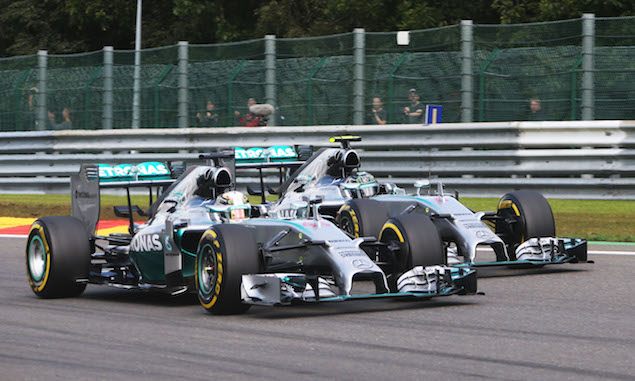 Nico Rosberg says he has "no regrets" over his contact with Lewis Hamilton at last year's Belgian Grand Prix.
With Hamilton leading early in the race, Rosberg attempted to overtake around the outside of his team-mate in to Les Combes, with the pair making contact which gave Hamilton a puncture. Having retired from the race, Hamilton revealed Rosberg had admitted he allowed contact to happen, leading to increased tension within the team.
Asked if he had any regrets over the situation, Rosberg replied: "It was a tough time after this race last year. No regrets, I learnt a lot."
Admitting he changed his approach as a result of some of the lessons learned from the incident, Rosberg says there has been no need to revisit the clash ahead of this weekend.
"No, because it was clarified after this race last year and discussed over the winter. Everything is clear."
And Rosberg still believes he can overhaul Hamilton in the championship standings, as he currently sits 21 points behind his team-mate.
"I need to keep pushing the way I have and it just needs to be slightly the other way. It is 21 points and at times in the last race I was leading the championship, so it was very close in the first half, so what I think I need to do is keep on going like this, keep pushing, keep winning races and I believe I can make it up."
Chris Medland's Belgian Grand Prix preview
Click here for a gallery of the biggest crashes at Spa-Francorchamps 
Keep up to date with all the F1 news via Facebook and Twitter