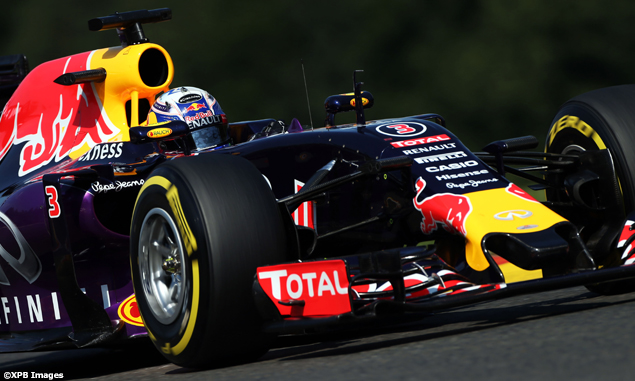 Daniel Ricciardo says he is "relatively pleased" with setting the sixth fastest time in qualifying for the Belgian Grand Prix, despite his Red Bull losing a lot of speed on the straights at Spa.
The Aussie showed promise in free practice, though he always expected Ferrari and Williams to unlock more power on Saturdays. The highest ranked Renault-powered driver, Ricciardo also takes satisfaction from being in the mix behind the untouchable Mercedes.
"We are pretty close," said last year's Belgian Grand Prix winner. "We obviously did not expect too much. We knew yesterday it looked a bit better than it probably was. We knew Williams and others would come forward today.
"To be sixth and pretty close to third, we are relatively pleased. We see how much [speed] we bleed on the straights, so to be able to carry that speed through sector 2 and then keep a good time, we are relatively happy with the day."
With Lotus' Romain Grosjean incurring a five-place penalty for using a new gearbox, Ricciardo will actually line up fifth on the grid.
This weekend also marks the first grand prix where the new FIA-sanctioned starting procedures are implemented. But the 26-year-old is adamant he and Red Bull have thoroughly trained in that field ahead of Sunday's race.
"[I have] no fear for that. Maybe if I were Williams or Ferrari who always get good starts, then I would have a bit more fear for losing that, but for us no fears at all.
"The procedure we did all week, but also I was in the simulator on Tuesday and we went through the produced and what to do, so for us drivers we just have to remember more in terms of the team will tell us before we go out: do two burnouts or do this or that, and we just have to remember that.
"They can't tell us anymore. But when we are sitting on the grid and do the start, that does not change."
Click here for Saturday's Belgian Grand Prix gallery at Spa-Francorchamps
Keep up to date with all the F1 news via Facebook and Twitter